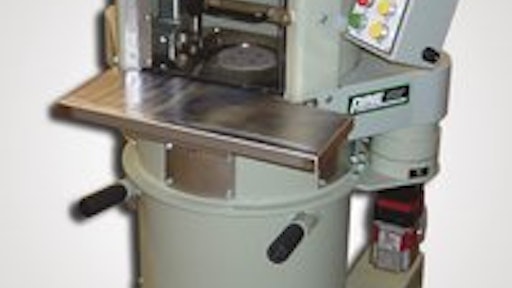 904H compact wheel loader
The 9,900-lb. 904H compact wheel loader delivers an 8,003-lb. bucket breakout force and maximum hydraulic lift capacity of 7,464 lbs.
94-in. maximum dump height
52-net-hp turbocharged MHI S4Q2 diesel engine meets Interim Tier 4 regulations
Closed-loop, single-path hydrostatic transmission
Available with a choice of couplers, including a universal-style coupler compatible with skid-steer-loader work tools
Incorporates articulated steering, two-speed hydrostatic drive, Z-bar loader linkage and optional locking differentials for the front axle and oscillating rear axle
Caterpillar Inc.
Bid2Win 2009
BID2WIN Software releases the latest version of its estimating and bidding solution - BID2WIN 2009, which includes over 80 new enhancements, features and reports. Features include estimate attachments, copying item templates from one item database to another, modifying an estimate status within the open estimate dialog, find/replace cost components and more. BID2WIN also offers 24/365 technical support hotline, client surveys and the annual BID2WIN Software User Conference.
Bid2Win Software
Icon 3.1 Jacket
The Tingley Rubber Corporation introduces the Icon 3.1 insulated, waterproof outerwear system. The Icon 3.1, which is Class 3 compliant for visibility, meets the ANSI/ISEA 107-2004 standard for breathability and high visibility. The jacket features a removable fleece liner and a 2-inch silver reflective tape.
Tingley Rubber Corp.
L45F and L50F Wheel Loaders
The L45F and L50F feature 98- and 115-hp Volvo D5 4.8-liter, turbocharged Tier III-certified engines that deliver high torque at low engine speeds.
19,070- and 20,790-lb. operating weights with 14,837- and 16,636-lb. bucket breakout force
Torque Parallel linkage for smooth, parallel lift, high rollback torque and optimal lifting power throughout the lift range
Separate power steering and load-sensing hydraulic pumps
100% differential locks on the front and rear axles
Feature fully hydrostatic transmissions, a heavy-duty articulating frame and the Volvo Care Cab
Volvo Construction Equipment
Quixote Vulcan Transfer Attachment
A unique new transfer attachment is now available from Energy Absorption Systems, Inc., a Quixote Transportation Safety Inc. company. Designed for moving Vulcan Barrier -- the portable, steel longitudinal barrier for temporary use in work zones to open and close lanes of traffic -- the attachment can be used with a variety of end terminal options, such as the QuadGuard CZ, Quest, or Triton CET Systems. With the new Vulcan Transfer Attachment (VTA), workers can now quickly and efficiently move Vulcan Barrier to open or close one lane mile of barrier in just 20 minutes. The VTA attaches to a standard skid steer or front end loader without need for special equipment or machinery. Rugged galvanized steel construction ensures longevity and durability.
This transfer attachment enables quick and efficient movement of Vulcan Barrier to open or close one lane mile in just 20 minutes.
Attaches to a standard skid-steer or front-end loader without need for special equipment or machinery
Rugged galvanized steel construction
Connects to skid steer via the attachment interface and quick-connect hydraulic lines
Energy Absorption Systems Inc.
SuperPave AFG2Gyratory compactor
Pines AFG2 is its third generation gyratory compactor which incorporates the newest technology that laboratory technicians need in a gyratory compactor.
Built-in angle measurement capabilities
Designed to account for frame compliance and dynamically compensates for varying mix stiffness.
Internally stores results from 20 previous tests, including gyration number, specimen height, angle of gyration, consolidation pressure and sheer per gyration (optional)
Pine Instruments
Trailmax FWTD-70-TA
The FWTD-70-TA traveling axle trailer features a high-tensile fabricated four-beam construction and tubular crossmembers on 12-in. centers.
Rated with a 70,000-lb. distributed capacity and a 50,000-lb. concentrated in a 10-ft. space
6° load angle and 16° dump angle suitable for hard to load and unload pieces of equipment
Hydraulic system requires no moving hoses and features quick disconnects for easy use
12,000-lb. hydraulic planetary winch comes standard
Gem State Manufacturing, Inc.-TrailMax