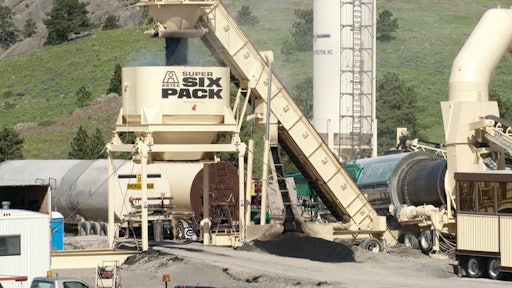 Sometimes the work comes to you. Sometimes you go to the work. Such is the nature of hot mix asphalt (HMA) plants in the Western United States, where vast expanses mean making a jobsite wherever it needs to be. Portable plants were designed with that industry niche in mind, allowing companies to pack up and go where and when needed.
Bob Warren, operations manager of Schellinger Construction Company, Inc., says the acquisition of the Astec portable 8-ft (2.44 m) Double Barrel HMA facility enabled the company to efficiently meet an unexpected demand surge.
Warren said the company's 1999 model, 400-tpph portable plant from another manufacturer was still producing, but it had become less reliable over the years.
"It was our intent to replace the older plant with the new one, but we ended up getting so much business last year that we ran both," Warren said. "We were just positioned right for a lot of big highway work that fit our niche."
Schellinger workload
Schellinger, initially a major crushing contractor, evolved during the last 30 years into doing scraper and dozer work with a fleet of trucks equipped to manage most jobs.
"When these jobs hit, we were prepared for big reconstruction work," Warren says. "We do almost everything in-house, which allows us to be more competitive and opened up a lot of work for us."
Many of the jobs were centered on Interstate 15 between Helena, MT, and the Canadian border.
"We had full-depth mills — some of these jobs had as many as a million tons of gravel on them and required a lot of overlay work," Warren said. "We had a lot of urban reconstruction on highways that passed through little towns. We would widen them and put in the curb, gutter, and sidewalk, along with new asphalt with a new drainage structure."
Schellinger took on a design-build job for the Montana Department of Transportation (MDT), finishing the 14-mile stretch of road that required dig outs, drainage work, and approximately 200,000 tons of asphalt.
In addition to MDT projects, Schellinger has tackled a couple of golf courses over the years. From rolling hills on a mountainside, the company has contoured courses and paved areas as needed.
Schellinger beginning
Cliff Schellinger began Schellinger Construction in the 1950s as a crushing company, working for the forest service and for Air Force bases in Montana. His son, Al, took over the company 20 years ago and saw an opportunity to grow as highway business began to boom. He has gotten the company more involved in dirt-moving and creating culverts, while still keeping the company's crushing work as an important aspect of the business. Now the third generation is working in the vertically-integrated family business.
"We never had asphalt until 2001," Warren said. "We took that operation on, and now we have three plants, including the new one. Everybody is responsible for their own thing, reporting to one guy, Al Schellinger. He's involved in the day-to-day operations and in every decision. That's always how it has been, and it's always worked."
Warren, who has spent his career in highway estimating and in working with portable plants, said Schellinger typically takes on projects in north, central, and western areas of Montana.
"We like to keep our jobs within a range where the guys aren't too far from home," Warren says. "We want them to have a reasonable drive for them to go home on Friday for the weekend. Having a family life is important. Montana is 700 miles across, and even though I've lived here my whole life, there are parts of the state I've never even heard of."
Warren spends a certain amount of time on the road, but says he is a hands-on type by nature and likes to get out with the crews, taking part in raking and shoveling.
"Money is made and lost on the road, so it's important to be out there," Warren says. "There are a lot of technical parts to paving in Montana. We have extreme weather conditions from extremely cold to places that can average 95 to 100 degrees F. Asphalt has to perform through a whole range of temperatures."
Warren says the portable plant will be moved 10 to 15 times a year as Schellinger moves from jobsite to jobsite.
"We'll pick it up and go," Warren said. "We can be running at one location Monday at 5 p.m. and by Wednesday morning, there's no sign we're there. By Friday, we can be at another location, calibrated, and making mix. It's all a function of how far we have to move the plant. If it's 50 miles, we can be up in a day and a half."
The new portable plant
The new Astec plant has a portable 10' x 14' four-bin cold feed system, telescoping support legs with base plates, triple-axle air bag suspension, 30-inch belt feeders with troughing idlers, a 36-inch collecting conveyor, and a rigid bulkhead with a walkway and ladder.
It includes a portable 30" x 60' conveyor with a 4' x 12' screen and a portable 8' x 38' Double Barrel drum mixer. It also has a portable 76,638-cfm Express Baghouse with an inertial dust separator, PMII controls, a portable Self-Erecting Surge Bin, and 30-inch drag conveyor.
"We came across Astec when we were doing due diligence," Warren says. "We thought we would just go through the motions and say we looked at it, but about a week later, we were on a plane to Chattanooga, TN, and we bought the plant. It's an impressive company, and the people and quality of the machinery blew us away. The level of care and quality of the company is what sold us on it more than anything."
With a $20 million project for an interchange in Helena, MT, Warren said half of Schellinger's season of paving is already on the books. He anticipates keeping both portable plants operating to keep up with current demand, though he says it's difficult to get a feel for where the market is headed during an election year. With the Astec portable HMA plant at the ready, Schellinger is prepared for any eventuality.
"You want to have your chess pieces where they belong so they're ready to move when jobs come up," Warren says. "We expect to move the Astec plant a lot this year."