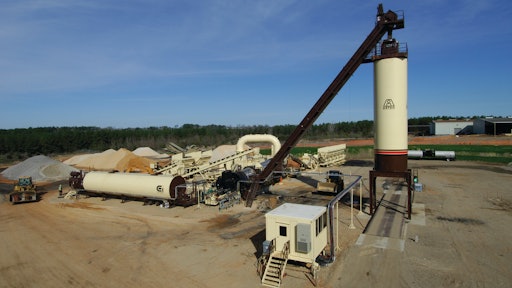 Operators for Mobile, AL-based Hosea O. Weaver and Sons were in for a pleasant surprise after the purchase of a new Astec asphalt plant in September 2012.
"When we first decided we were in the market for a plant, we had a tight timeframe," says Hosea O. Weaver and Sons vice president Michael Weaver. "We went to Astec. They suggested a stock plant — a Dillman plant being built that was basically an Astec design of a Super Six Pack on everything but the drum and the baghouse, which were the Dillman design of the Unified drum and the reversed pulse baghouse."
Hosea O. Weaver and Sons expected to get running quickly and then work out kinks along the way. It would be reasonable to expect a learning curve. Instead, the plant took off without a hitch and exceeded their expectations.
Hosea O. Weaver and Sons bought the portable 300-tph 8 ft x 50 ft Unified counterflow drum mixer on the spot and put it in field. "The way it operates is fairly maintenance free," says Weaver. "It's so well-designed that you can't find a problem with its simplicity."
Lewis Tillery, Hosea O. Weaver and Sons' vice president of operations added, "It's a simpler design, and we like that it has a variable speed slinger that feeds into the counterflow design. Anything that works well we're obviously pleased with."
Perhaps the biggest point of pride for the new facility, however, is how it has outperformed its own rating even in the initial months of production. Hosea O. Weaver and Sons' new plant is rated as a 300-tph plant, but soon those at the plant discovered it was able to run 350 tph, exceeding its rating with no issues whatsoever and doing so consistently.
The plant operators and management discovered their success was a combination of skilled personnel, quality equipment, and fortunate weather. Lewis Tillery reported that a dry spell improved the mixing conditions slightly, but enough to note a difference.
"We had easily produced 350 tph during a dry period," says Tillery. "Can we do that in the extreme winter? When it's most wet? We don't know yet, but we were very excited to discover we can do this with a new plant."
Weaver added that increasing the production rate was not the only surprise the plant had in store. "When we did our stack test, we had no emissions at all," he says. "Zero."
Companies in this article