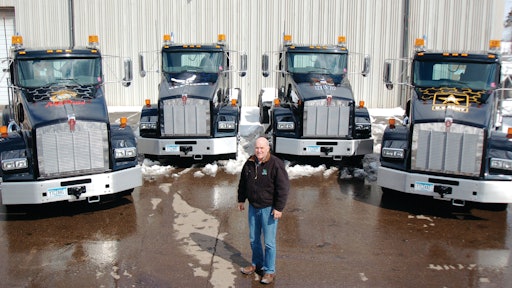 Patriotism runs through the veins of Rich Carron. Carron served his country in Vietnam, while his dad served in World War II.  His father in-law was in the Marine Corp for 27 years, which included two tours in Vietnam; and two nephews are in the Air Force in special operations.
Patriotism also runs throughout his company, Valley Paving. "When we're hiring, we absolutely look for military applications," he says. "We're one of 117 veteran-owned businesses in our state."
The Minnesota Department of Transportation gives veteran-owned prime contractors up to a six percent ($60,000 maximum) preference on state funded highway projects. "It's wonderful that the state has a commitment to working with veterans," says Carron.
Valley Paving is one of the largest road pavers in the Minneapolis/St. Paul area.  But, it wasn't always a smooth ride for Carron. 
"After I came back from 18 months in Vietnam in 1969, I worked at a supermarket -- the same one I had prior to my military service. But after a short stint, I decided I wanted to do something different," Carron says.  "While driving home one day I stopped at a highway construction site and asked if they had any job openings.  They did and I started the very next day." 
 After seven years and moving up to the position of foreman for the asphalt paving company, Carron decided to start his own company.  "I went broke within the first year," he says.  "I went back to my old company for two years before giving it another go."
 At age 28, Carron says life was full of change as he tried once more to start a company. He got married and bought a house with a GI loan.  But, what made the second attempt a winner was a trip to California.  
Winning with windrows
In California, Carron observed the windrow method being utilized. "I saw the wave of the future when it came to road building – windrow elevators," he says. "It made sense to me that using belly dumps on longer hauls equals more tons on the ground with larger units hauling 22 ton verses 17 straight units. The cost associated with hiring tractor trailers is more expensive, however not that far from the cost of straights."
When using a windrow elevator, the unit is positioned directly in front of the pavers and are designed to pick up HMA placed in a windrow and transfer it to the paver hopper. This allows for virtually continuous paving without stopping.
"Windrow elevators weren't being used much in Minnesota, not at all within the metro area," he says. "I saw how fast they allowed roads to be built.  So I started using this technology and our productivity went way up.  We figured it out before others in this area, however soon after, the rest followed.  But, it helped launch our business and increased our ability to tackle larger projects."  
Valley operates 22 company Class 8 trucks, and compliments it with up to 80 additional owner operators (depending upon demand), pulling belly dumps for its windrow  paving operations. There are many benefits when using windrow elevators, says Carron. These include: smoother operation at the paver, no need to push the trucks with the paver, no need to constantly yell at the drivers to keep from dumping the load in front of the paver thus shoveling the entire load into the hopper of the paver, and the ability to meet tough rideability specs, thus avoiding penalties.
"One of the challenges of using windrow elevators is having a good dump man," says Carron. "If you don't have a good dump man, then forget using this system." 
 Valley Paving uses the windrow method whenever possible. "This method has proven itself time and again," says Carron. "It offers good ride incentive, good density results, good production."
In 1994, Valley Paving received the highest national paving award from NAPA, the Sheldon G. Hayes Award. To date, Valley is the only Minnesota contractor on a Minnesota highway to win this award for its project on Interstate 35 E from White Bear Lake to Forest Lake. The windrow method has been a proven winner for Valley. "If it ain't broke, why fix it?" asks Carron.
Highway 95 project
One of the largest projects Valley Paving worked on this summer was a 13-mile repaving stretch on Highway 95 that is estimated to use 100,000 tons of asphalt.  "It was about a three-month job and kept us plenty busy coupled with other projects within the metro area," says Carron.
The road structure of Highway 95 was over 20 years old. The contract called for Valley Paving to mill 4 inches at the centerline and maintain a 2% cross slope for 18 feet either way of the centerline, leaving approximately 4 inches of surface remaining to reclaim. Valley then installed approximately 100,000 tons of mix total with three lifts of 6 inches, a 2-inch non-wearing course of PG 58/28, and a 4-inch wear course of PG 58/34 modified.      
"We were supposed to begin this job in early April," says Carron. "This spring was horrible due to snow storms, however, then we had rain day after rain day for 40 days. It has somewhat turned around, but it continues not to be a typical Minnesota summer.  We're behind schedule like most other contractors in the area."
Good people & good equipment a must
"Reliable equipment is such a critical thing for us, especially since we have a short working season," says Carron.  "When we get contracts with governmental agencies, there are penalties attached if you can't get the work done as stated.  Penalties are not cheap which makes us demand both good people and excellent equipment.
For airport work, for example, fines can be as high as $5,000 per half hour, says Carron. "If you have a piece of equipment down, you not only lose money and pay penalties, you also may be answering to the public on the nightly news," he says. "For this company, we can't have that."
Carron says he has purchased just about all makes of pavers for the past 35 years, and that service and dependability is a must when it comes to the brand he chooses.  "A paver that is broken down brings all associated equipment to a halt," he says. "Plants, loaded trucks, all paving equipment; it can be very costly. With an average price of a ton of mix today being $65 per ton, quick response, knowing what the problem is, having good mechanics on board to get it back up and running is critical."
A typical paving contractor that performs heavy highway work using one paver should be looking at 250,000- to 300,000-ton per year per machine, says Carron. He says his crews prefer -- and company maintenance records indicate -- Blaw- Knox (now part of Volvo) and Cedarapids (now part of BOMAG) are the preferred machines. 
"The tractor of any paver pulls the screed, the screed makes or breaks you," says Carron. "A paver can range from $450,000 on up. To be honest, we have machines that are 20 years old that will stay side by side with the newer equipment – sometimes they're even better."
Good equipment is imperative, but good people are just as important for a well-run company. As mentioned, Carron enjoys hiring military vets for his company and giving them the opportunity to succeed.
About a dozen of Valley Paving's 100 employees and owner operators have served in the military.
"With vets, you gain a brotherhood relationship through respect for one another and the military experience you share," he says. "Most veterans I know who have signed on the dotted line to serve go well beyond perseverance for the good of the country. They don't expect parades or a pat on the back. They have stepped up! That character alone proves why employees should hire vets."
Carron concludes, "Everyone here is very proud of our commitment, proud to show support to the retuning vets, and we encourage others to put veterans back to work."