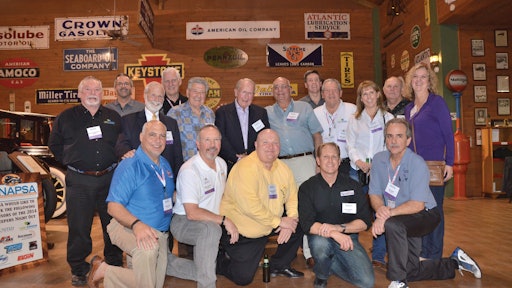 [photo and caption]
NAPSA Gathers Past Presidents at NPE
ATSSA Receives Federal Grant to Train Roadway Workers
The American Traffic Safety Services Association (ATSSA), Fredericksburg, VA, recently was awarded a $2.2 million federal contract under the 2013 Federal Highway Administration's Work Zone Safety Grant to train roadway workers who build and maintain America's roadways.
The three-year grant charges ATSSA to deliver numerous Traffic Control Technician and Traffic Control Supervisor training courses nationally, as well as ATSSA's nationally acclaimed Flagger Instruction Training Course.
"The grant allows our highly qualified and experienced instructors to train countless roadway workers across the county who are working hard every day to make America's roadways safer," said ATSSA's Director of Training Donna Clark. "ATSSA thanks the Federal Highway Administration for their confidence in ATSSA and in what our cutting-edge courses deliver."
FHWA, MnDOT Release "Rolling Resistance" Report
A report on "rolling resistance" that gauges pavement surface characteristics' effect on fuel consumption and energy conservation has been released by the Federal Highway Administration (FHWA) and the Minnesota Department of Transportation (MnDOT). Pavement Texture Evaluation and Relationships to Rolling Resistance at MnROAD is now freely available online at http://www.dot.state.mn.us/research/TS/2013/201316.pdf.
MnDOT is investigating the influence of pavement surface characteristics on rolling resistance—resistance to motion caused by pavement's interaction with a vehicle's tires—because lessening this resistance reduces the energy required to overcome it during road travel. A 10% decrease in rolling resistance could reduce the U.S. public's fuel consumption by two to three percent and eliminate up to $12.5 billion in fuel costs per year.
"The research conducted under this study intends to produce data that will allow MnDOT to identify ideal ranges for surface characteristics including texture, friction, and roughness and how these variables interact," said MnDOT's Dr. Bernard Izevbekhai, the lead agency contact. "The goal: improve pavements' quietness and ride quality while keeping them safe and durable."
The report is based on test data collected at the MnROAD testing facility and laboratory in cooperation with MnDOT, the Technical University of Gdansk, and pavement engineering firm The Transtec Group (Transtec). Transtec used their robotic laser texture profiler, RoboTex, to collect precise texture data from MnROAD's varied set of pavement surfaces, then analyzed the relationships between each pavement's coefficient of rolling resistance and surface characteristics data. The full results of this analysis are available in the report.
[photo and caption]
Schwarze Cuts Ribbon on Training Acadamy
Industry Appointments
Blastcrete Equipment Company, Anniston, AL, has retained several key Neal Manufacturing employees following its acquisition of the company last November. Greg Dodson, Eric Humphries and Edward Langley are staying on with the company. They join Maury Bagwell, who left his position as Neal's president in 2011 to join the Blastcrete team.
At East Manufacturing, Randolph, OH, David Miedl as director of aftermarket parts sales & service. Miedl replaces Ted Hutchison who is retiring after 25 years with East Manufacturing.
At Paladin Attachments, Dexter, MI, David Garmenn leads the new strategic initiative focusing on aftermarket parts and attachment-specific maintenance kits….Aaron Hickman is controller at Talbert Manufacturing, Rensselaer, IN.
ACE Group Acquires Torwel Industries
ACE Group LLC, manufacturer and distributor of equipment and wear parts for the asphalt industry, has acquired Torwel Industries, a division of Sanweld Industries Inc.  Located in Bellingham, MA, Torwel Industries engineers and manufactures commercial and professional salt and sand spreaders. The acquisition allows ACE Group to expand its market area to New England and the east coast, as well as provide its East Coast customers with responsive service from a local, region-based facility. ACE Group has manufacturing operations in Minnesota and corporate offices in British Columbia. The Bellingham facility is now called Ace Torwel, Inc. 
Alan Rose Receives EEA Lifetime Achievement Honors
Alan Rose, CEO and majority owner of Rose Paving Co., Bridgeview, IL, recently received a Lifetime Achievement Award at the 2013 Entrepreneurial Excellence Awards (EEAs), sponsored by The Daily Herald Business Ledger. The EEAs were presented for the 14th consecutive year, and 20 business owners were recognized at the Sept. 11 event.
A member of the Pavement Advisory Board since 1997, Rose is also a regular speaker at National Pavement Expo. He recently presented "Setting the STAGE for a Successful Promotional Event," at the 2014 National Pavement Expo, Jan. 8-11 in Fort Lauderdale, FL.
"I am thrilled to accept an Entrepreneurial Excellence Award in Lifetime Achievement," Rose said. "Year after year, I continue to make great strides exceeding industry, customer, and employee expectations.  After 40 years as an entrepreneur, I have learned valuable lessons; perhaps the greatest of all, to hire people smarter than me.  I trust my employees to do as good or a better job than I could do myself."
The EEAs recognized outstanding entrepreneurship in suburban Chicago. Honorees demonstrate the best traits of entrepreneurship, including willingness to take risk, drive, perseverance, and business creativity. In order to qualify, the nominee's company or organization must be based in, have been founded in, or have a significant presence in the suburban Chicago area. The seven categories for awards were early stage, growth, innovation, outstanding service to entrepreneurs, young entrepreneur (under age 40), regional spirit, and lifetime achievement.