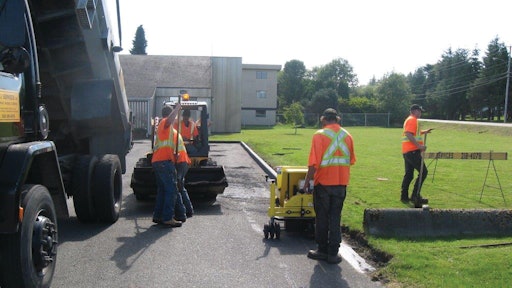 D'Arcy Ingram, a third generation paver, has an appreciation for quality work. He also has high standards for his employees, equipment and safety procedures. When it comes to his asphalt paving and repairs business D.K.I Services Ltd., Ingram doesn't compromise on anything less than the best. The company's mission statement sums it up: Always do what's right. And always do your best.
"I said we're going to wear proper gear, look professional, be professional and do quality work. We set up a good business plan and decided we were going to do a good job and do it fairly. It hasn't been a get-rich-quick scheme, but blood, sweat and tears have gone a long way," Ingram says.
Ingram's dedication to excellence even filters down to the equipment he uses to get the job done. "I tend to run new or next-to-new equipment," he says. "We've upgraded everything. We don't believe in running old junkers, and I knew when I started the company clean, well-kept equipment would help us stand out. Just as our employees look polished, our equipment helps set the company image."
Ingram, who started paving when he was 12-years-old, founded the company in 2007 in Merville, British Columbia. His aptitude for paving comes naturally — Ingram's grandfather and father got their start in the paving business, as well, dating back to 1946.
"The reason I started D.K.I and went back to my roots in paving was because I didn't want to leave Vancouver Island after the hard economic times hit," he says.
Prior to founding his business, Ingram worked as a regional manager at a local equipment dealership. Over the years he worked his way up the ladder from factory rep to salesman to sales manager and finally regional manager. When the economy took a downturn, one of Vancouver Island's main industries – forestry – was also hit hard.
"Logging was dying on the vine, and the company I worked for wanted me to move back to Edmonton or Prince George where I started," Ingram says. "Instead of moving I decided to start D.K.I Services."
Protecting Valuable Assets
D.K.I does some dirt work and snow removal in the winter and rainy seasons, but its number one service is asphalt paving and repairs. The company also offers crack sealing for municipal roads and sealcoating for residential, commercial and industrial customers. Both the backhoe loader and skid steer help D.K.I. provide the highest quality of work.
"Our specialty is asphalt preventative maintenance. We're trying to protect people's assets," he says. "Asphalt today is becoming a major investment, so we help customers avoid replacing all of it when it cracks or breaks."
As president of the company, Ingram no longer performs as much of the day-to-day onsite work. In the company's first three years he did it all, but as the business has grown, he spends much of his time prospecting for new business and sales. Ingram's general manager and superintendent of operations coordinate jobs from a day-to-day standpoint.
Ingram's new-business philosophy is based on acquiring customers who are likely to generate repeat business, he says. "A combination of advertising, prospecting, repeat business and word-of-mouth drives our sales," he explains. "We get a lot of repeat business and referrals, and when we seek new clients we try to acquire customers who have multiple locations or are going to need more work in the future."
While D.K.I does serve residential customers, the company works on many commercial, governmental and industrial jobs in the region. No matter who the client is, Ingram upholds the company's mission statement and focuses on excellence.
He also encourages excellence in his employees and demands the best out of new hires. "We recruit good employees, provide training and pay them properly," he says. "This helps us retain hard workers and continue providing superior service." 
One Door Closes, another Opens
Ingram's background in paving coupled with degrees in chemistry, business and construction administration laid the foundation for his venture into business ownership. Hiring the right employees and working with integrity are only two components of Ingram's dedication to quality; the third and fourth include using the best machines and upholding strict safety standards.
His experience working for an equipment dealership also gave him valuable insight into the best equipment in which to invest.  
"From a success standpoint, when you start a company and you're working on getting a brand established, all of those things go into it," he says. "When we first started, we weren't very well capitalized, but the overall performance, ease of operation and fuel economy of the JCBs didn't cost us any more money and helped pilot us to where we are today."
He initially bought a JCB 214CXS backhoe loader and a JCB 170 skid steer loader as a package deal. "It wasn't necessarily planned, but it was destiny," Ingram says. Ingram's most recent purchase was a JCB 260 skid steer loader, which he purchased in the fall of 2012.
In the winter, D.K.I. uses both the skid steers and backhoe loader for snow removal. The rest of the year the backhoe is used for trenching applications. "We put catch basins in parking lots and use the backhoe to dig that area out," Ingram says. "We also use an asphalt cutter on the back of the backhoe to cut asphalt, and it literally cuts it like pizza."
Anytime the company has a bigger job, crews use the backhoe, because it can handle larger loads, especially picking out broken asphalt from patches and loading the broken pieces into trucks.
Skid steers are known for their ability to multitask and handle a variety of jobs. Ingram's crews use their skid steers to carry broken asphalt from place to place on smaller jobsites and laud the machine's ability to maneuver in tight parking lots. "Backing a gravel truck hauling asphalt into every location isn't reasonable," Ingram says. "We use the skid steers for so many jobsite tasks that we wouldn't leave for a jobsite without a skid steer anymore."
Safety First at D.K.I.
Ingram says that as important as professionalism and job quality is the company's focus on safety. "And we hold the bar high for safety," he says.
D.K.I has met Canada's strictest standards of safety as a COR company. British Columbia's Certificate of Recognition (COR) program is a voluntary incentive program recognizing companies that develop and implement health, safety and injury management systems that meet superior industry standards through WorkSafeBC.
"We far exceed the minimum safety standards we're required to meet," Ingram explains. "That's huge, and it took us four years in the making to get our COR. It puts us quite ahead of the average Joe. Safety is ingrained in our business."
A Formula for Success
Ingram also credits his equipment dealership, Wajax Equipment, for some of his success. "The dealership has been great and accommodating. They let us store equipment and drop off supplies in their yards, and they've sent out mechanics day and night on short notice," he says.
When it comes to running D.K.I Services, Ingram's passion for top-notch performance runs from the professional image his employees portray to the superior services his crews provide. "I believe in striving for the very best and providing the highest quality services," Ingram affirms. "All of our customers can be confident we're doing a good quality job for a fair price."
Jessica Simpson is a public relations associate at Swanson Russell, 1222 P Street, Lincoln, NE 68508; phone: 402-437-6482; www.swansonrussell.com.