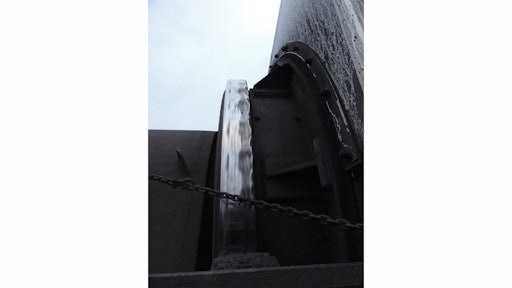 In the January issue, I wrote some detailed instructions on adjusting your trunnions for maximum operational life. That's all good, but I am often asked what to do when poor maintenance and misalignment leads to heavy damage to your tires and trunnions.
Insert picture #277 - The high spots are obvious and cause severe vibration.
The damage illustrated in this pictures comes from badly misaligned trunnions. In this case they were "pigeon toed" and fighting each other. As a result the opposing forces scalloped large divots in the face of the tire. The wavy surface caused extreme vibration, threatening to destroy the hand rails and platforms around the dryer, even the main frame was in danger if the damage was left alone.
Fortunately, I have some experience with repairing such issues so we were called in. First on the agenda was to repair and align all four trunnions to prevent further damage. Once that was done we built a tire grinding apparatus to resurface the tires.
Insert picture #269  Gerald works to cut the high spots. Patience is the key to success.
We start by building a seriously ridged base for a compound mill table. This heavy base is the key to the success of our operation. It is very stable and holds the mill table in perfect alignment with the face of the tire. Like all precision projects, set-up is everything. We expend a lot of effort to insure perfect alignment before we ever begin any grinding operations. After all if the grinding platform is out of alignment, the only thing you are going to do is grind inappropriate angles into the already badly damaged tire.
Insert picture #278  After about 10 hours, most of the high spots are gone and the drum runs smoothly.
As illustrated by examining the tire in this picture, it does not take very long to grind the tires smooth and significantly reduce if not completely illuminate the vibrations. This process works on the smallest plant on up to the largest plant. Patience and attention to details lead to a successful resolution to your problem. We teach this process to interested plant crews.