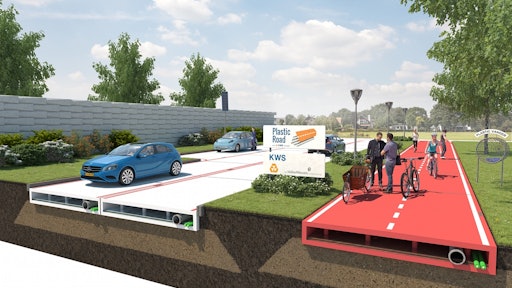 The Netherlands really seem to be ahead of the game when it comes to finding ways to build more sustainable roadways. They have tested sections of roadways made with steel wool that can fix themselves and also sections of roads that can actually eat smog and reduce air pollution. 
Their latest innovation is a roadway that is made out of recycled plastic bottles. Plastic bottles are recycled into jeans, toys, furniture and, yes, more plastic bottles. The Dutch city of Rotterdam wants to turn them into highways
The construction firm VolkerWessels unveiled plans on Friday for a surface made entirely from recycled plastic. The technology, called PlasticRoad, is said to require less maintenance than asphalt and could withstand greater extremes of temperature– between -40°F and 170°F. 
The plastic roads are lighter, reducing the load on the ground, and hollow, making it easier to install cables and utility pipelines below the surface. Not only that, but VolkerWessels says roads could be laid in a matter of weeks rather than months and last about three times as long.
Sections can be prefabricated in a factory and transported to where they are needed, reducing on-site construction, while the shorter construction time and low maintenance will mean less congestion caused by roadworks. Lighter materials can also be transported more efficiently.
Recycle, Reduce, Reuse
It's a well-known fact that asphalt is one of the most recycled materials in the country, however the production of asphalt releases 96 million tons of CO2 into the atmosphere annually.
That's led inventors to ponder planet-friendlier materials and applications, including solar-panel arrays and luminescent paint designed to absorb solar energy. And in India, plastic refuse (including bags) already has been used in place of bitumen in 3,000 miles of roadway.
PlasticRoad will also make use of our waste. The U.S. alone generated 33 million tons of plastic waste in 2013, only 9% of which was recycled.
"Plastic offers all kinds of advantages compared to current road construction, both in laying the roads and maintenance," Rolf Mars, director of VolkerWessels' roads subdivision, KWS Infra says. 
Mars said the PlasticRoad project was still at the conceptual stage, but the company hopes to be able to put down the first fully recycled thoroughfare within three years.
"It's still an idea on paper at the moment; the next stage is to build it and test it in a laboratory to make sure it's safe in wet and slippery conditions and so on," Mars says. "We're looking for partners who want to collaborate on a pilot – as well as manufacturers in the plastics industry, we're thinking of the recycling sector, universities and other knowledge institutions.
"Rotterdam is a very innovative city and has embraced the idea," Mars continues. "It fits very well within its sustainability policy and it has said it is keen to work on a pilot."