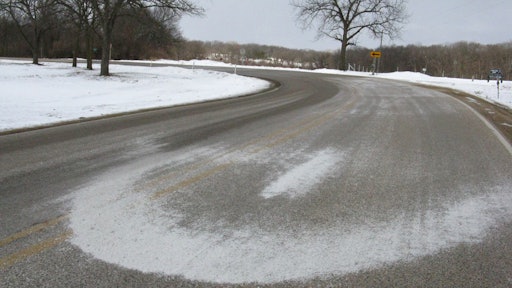 Salt has long been the hero each winter when Mother Nature begins to wreak havoc on our roads. However, salt can be easily removed by rain or automobiles and requires frequent application on roads to be effective and is quite costly. That frequent application can add up to 20 million tons dumped on our roads each year.
Add to that the fact that anti-icing agents are corrosive to asphalt and have a negative impact on the environment and it's clear why scientists are seeking other alternatives to combat icy roads.
A team of researchers at Turkey's Koc University recently created an asphalt mixture that is embedded with salt, so roads can de-ice themselves. Roads paved with this salt-embedded asphalt should even be able to prevent ice from forming in the first place.
Why it Works
The researchers are calling the product a "Gelation-Stabilized Functional Composite-Modified Bitumen for Anti-icing Purposes."
The incorporation of these salts into asphalt bitumen, asphalt binder, and the controlled release of specific molecules from this hydrophobic medium can provide an effective solution for reducing ice formation on pavements.
Bitumen has previously been modified by various polymers, however, an anti-icing function was not considered in those previous designs.
In a previous study, Koc researchers developed a functional polymer composite consisting of potassium formate (HCOOK) salt pockets dissolved in a hydrophilic gel medium and dispersed in a hydrophobic SBS polymer matrix. Here, they developed an innovative method to obtain polymer composite-modified bitumen and investigated further the anti-icing properties of the functional bitumen.
Moreover, this salt potassium formate has been widely approved as a more environmentally friendly de-icing solution compared to the other chemicals that have been used for de-icing in the past.
Researcher say they were able to characterize the anti-icing properties of modified bitumen surfaces and demonstrated significant increases in freezing delay of composite-modified bitumen compared to base bitumen in a temperature- and humidity-controlled chamber.
Will it Last?
In lab studies, the researchers found that the salt infused asphalt delayed ice formation for 10-15 minutes. Certainly not long enough to put the salt trucks out of business, but it gives drivers a window of time to familiarize themselves with the conditions and hopefully help in the prevention of accidents.
In addition, they characterized the release of HCOOK salt from polymer composite-modified bitumen and observed salt release within the range of 1.07–10.8% in 67 days in the lab depending on the composite content.
However, the researchers note that the effects could last even longer when used on real roads. In that instance, the salt-polymer composite would be evenly embedded throughout the asphalt. Thus, as cars and trucks drive over and wear away the pavement, the salt could continually be released — potentially for years.
The resulting material was just as sturdy as unmodified bitumen, and it significantly delayed ice formation in lab studies for long-term durability.
The researchers now plan to pave test sections and drive on them to prove the feasibility of the research.
A possible downside of the ice-proof roads will be the wear and tear to cars and tires. Any salt compound can do corrosive damage to the structural integrity of tires and the underbelly of cars themselves.
Regardless of the negatives, this research is not to be taken with a grain of salt. These roads could save millions of dollars on corrosive materials and the application efforts, not to mention the huge reduction environmental impact if these efforts become widespread and take the place off common rock salt.