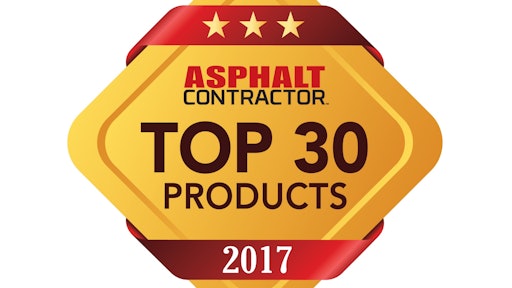 Underscoring the importance of the right equipment to a contractor's bottom line, the editorial staff of Asphalt Contractor magazine selected products for its Top 30 Editor's Choice Awards. The items on this list represent the tried and true as well as the new and improved, reflecting the breadth of products and equipment used by asphalt businesses.
Asphalt contractors researching construction equipment purchases can find the industry's preferred products, courtesy of the editors of Asphalt Contractor, the premier magazine dedicated to asphalt producers and contractors, and visitors to ForConstructionPros.com, the construction industry's #1 web portal.
The Top 30 Editor's Choice Awards are chosen by the Asphalt Contractor editorial staff for meeting various criteria including longevity and consistency in the market, dependability, productivity and innovation. To gauge readers' preferences, they also factored in how much interest these products received on the Buyers Guide at ForConstructionPros.com/Asphalt.
"Equipment is the lifeblood of our readers' businesses -- the right equipment choices can mean the difference between a profit or a loss on a project," says Lisa Cleaver, Asphalt Contractor editor. "Every asphalt contractor has his or her favorite piece of equipment. Some pieces of equipment have proven their prowess for adding profits. Others are popular for their ease of use and high productivity. And then there are those exciting new introductions which offer the latest innovations. To honor those products which achieve these ideals, we offer this year's Top 30 Editor's Choice Awards."
Asphalt Contractor, produced by AC Business Media, congratulates the following companies and products identified as the 2017 Top 30 Editor's Choice Awards. Additional information on the winning products can be found in the May issue of Asphalt Contractor or at ForConstructionPros.com/Asphalt.
Aquafin Pavement Instant Asphalt
Caterpillar PM620 & PM622 Cold Planers
Roadtec MTV-1100e Material Transfer Vehicle
BOMAG Americas BM 2000/75 & BM 2200/75 Cold Planers
Meeker Equipment Liquid Vision
KPI-JCI Astec Mobile Screens Fast-Pack Self-Erecting Plant System
Kleemann Spective Control System
Vögele Super 1700-3i & Super 1703-3i Pavers
Carlson CP130 Commercial Paver
Gencor Trifecta Counterflow Drum Mix Plant
GSSI PaveScan RDM Asphalt Density Assessment Tool
Wirtgen WR Series Wheeled Cold Recyclers
Volvo DD105 OSC Double Drum Compactor
Sakai SW754 Vibratory Tandem Drum Roller
Airmar WX Series Ultrasonic WeatherStation
SealMaster Liquid Road Surface Treatment
Road Science ArrMuls Tack Technology
BioSpan ACTIVATE RAP Restoration Agent