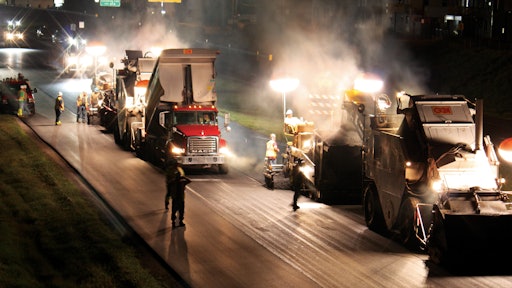 Federal Motor Carrier Safety Administration (FMCSA) Hours of Service (HoS) regulations continue to affect the transport of asphalt pavement mixture and construction equipment by commercial trucks. Truck drivers and the companies that employ drivers are required to comply with a several FMCSA HoS regulations, including upcoming requirements for electronic logging devices (ELDs) and mandatory 30-minute rest breaks for drivers, under some circumstances. So what does this mean for asphalt contractors?
The existing HoS rules limit commercial motor vehicle (CMV) drivers to 11 hours of driving within a 14-hour daily duty window and that they must have 10 consecutive hours off duty between driving periods. Drivers cannot operate after having been on duty for 60 hours in seven days or 70 hours in eight days if company operates seven days a week.
UPDATE 5/15/2020: Revised Trucker Hours of Service Rule Benefits Asphalt Contractors
For drivers of construction materials and equipment, these weekly limits can be reset after 24 consecutive hours off duty as long as you stay with a 75 mile radius of your work reporting location.
Drivers also may not operate a CMV after being on duty for eight hours without a 30-minute off-duty rest break.
Every driver must record their duty status for each 24-hour period using either the FMCSA-specified grid or an electronic logging device (ELD). However, the Records of Duty Status (RODS) reporting requirement is exempted for short-haul CDL drivers operating within a 100 air-mile radius of their normal work reporting location and who have a maximum of 12 hours on-duty time. This means that a driver on-duty for 14 consecutive hours (13.5 hours with a 30-minute break) would not qualify for the RODS reporting exemption. For non-CDL holders, the operating radius expands to 150 air-miles.
Electronic Logging Device Rule
Starting December 18th 2017, the FMCSA will impose a new requirement for Electronic Logging Devices (ELDs). This requirement does not change the HoS requirement, but it does say that as of December 18th, if you're subject to the existing HoS rules, you have to use an ELD instead of a paper log to record your hours of service.
There are two relevant industry exceptions to this rule: 1) if the vehicle was manufactured before model year 2000, or 2) if the driver is not required to maintain a RODS, e.g., if the driver can take advantage of the short-haul exception. If neither of these circumstances exist, the use of ELDs would generally be required; however, if either one of these conditions exists, the use of ELDs is not required.
Recordkeeping most frequently occurs through the RODS (and soon ELDs). However, if a driver is operating on a short-haul exception, then the motor carrier must maintain a driver's time-record that shows the time a driver reports for and is released from duty, the total on-duty hours each day, and possibly other information. These records must be maintained for at least six months.
Currently, to take advantage of all available FMCSA exemptions during the transportation of asphalt pavement mix and other road construction equipment, including exemptions from RODS reporting (including ELDs) and the 30-minute break requirement, truck drivers holding a CDL must travel within a 100 air-mile radius of where they begin their work day. To obtain additional relief through the 24-hour construction restart, truck drivers must reduce travel to within a 75 air-mile radius of their starting location, which must be the same as their ending location. Consistent with the short-haul exemption, for these drivers the use of ELDs would not be required.
However, due to the complexity of complying with HoS, and especially with taking advantage of the short-haul exception, each company should consider installing an ELD or a similar GPS-based tracking system or mobile app. These types of devices can help ensure compliance with all applicable state and federal HoS regulations and requirements
Installing an ELD
An ELD connects to the engine and records data as it happens. As the vehicle moves, the ELD automatically tracks duty status. This helps regulators since the data logs are difficult to alter. The goal is to reduce fatigue, which in turn results in fewer accidents and loss of life.
The upside to the legislation is that there are many business advantages to ELDs, provided you chose the right system. There are labor savings for the driver and you can also reduce duty hour fines or violations by keeping good records and current inspections; work with vendors to get vehicles turned around quickly; and integrate information collected from ELDs into your business systems.
For example, ELD data can help you maximize utilization of a vehicle. Insight into how the fleet is operating can help you better manage expenses. Being able to reduce idling and theft of usage of that vehicle after hours is a real benefit as well. With an ELD solution you can set up parameters to track that data.
Driver behavior can be tracked as well using ELD data such as vehicle speed, posted speed, acceleration and braking. This allows you to coach drivers and potentially reduce risk exposure due to unsafe driving practices.
Vehicle inspections can be greatly simplified if the ELD has the proper capability. The DOT requires 12 different inspection points on a vehicle as part of a pre- and post-trip inspection. ELDs have the capability to go beyond what's required.
Whiles states and the FMCSA say they will not issue out of service orders against drivers or vehicles until April 1st 2018, the still can issue warnings and citations as of December 18th, 2017. The timeline for compliance is tight. Prepare now to have drivers trained and IT support in place.