This week, nearly 500 transportation construction executives were in Washington DC to meet with their members of Congress. Attendees of the Transportation Construction Coalition (TCC) Fly-In ranged consisted of contractors, the planning and design community, safety professionals, materials and manufacturing industries and their employees, all with one goal in mind: "Fix the Highway Trust Fund Now."
As the expiration of the current federal surface transportation law, the Fixing America's Surface Transportation (FAST) Act, approaches in September 2020, the looming Highway Trust Fund (HTF) crisis and the impact of the resulting uncertainty on state transportation improvement plans reinforce the need for proactive congressional action.
The HTF account, which assists states with construction and maintenance, relies on dwindling revenue from the 18.4 cents-per-gallon gas tax and 24.4 cents-per-gallon diesel tax. The rate has not been raised since 1993.
The TCC insists that any HTF solution should entail a permanent, dedicated, user-based revenue stream to support the increased transportation investments advocated by President Trump and members of Congress from both parties.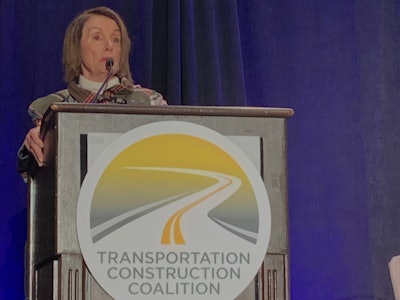 During the TCC Fly-In, attendees heard from members of Congress on both sides of the aisle, including the Speaker of the House Nancy Pelosi herself, push for infrastructure investment.
America is at "a pivotal moment" to pass broad and historic infrastructure legislation, Pelosi (D-CA) said to TCC Fly-In Attendees. "We have a special opportunity now because the needs are so great."
Pelosi continued by outlining her vision of an infrastructure plan saying that a robust, long-term infrastructure measure would be helpful in improving freight connectivity, assisting transit systems, addressing certain security concerns, and advancing severe-weather resilient construction projects. Such provisions, she added, would potentially lead to new construction jobs around the country.
The Revenue Question
Pelosi went on to say they were aiming for a $2 trillion infrastructure package.
"We could spend $4 trillion or $5 trillion, but $2 trillion is a start," she added. "What we really want to do is roll up our sleeves and build, build, build! The good news is the president is committed to getting this done," Pelosi continued. "We just have to stick with the program. I'm confident that it will happen."
The challenge however remains how to pay for the package. Pelosi did not address the key issue of a revenue source at the TCC meeting.
"Sure you can talk all you want about building, but where is the revenue," Senator Tom Carper (D-DE) ranking member on the surface transportation panel, said. "We need to restore the purchasing power of the motor fuel tax. Let's advance solutions in a bipartisan way to make our roads more efficient - both creating jobs and boosting American competitiveness."
The TCC, which is co-chaired by the American Road and Transportation Builders Association, and other major stakeholders in the industry, support higher federal fuel taxes to ensure the long-term solvency of the HTF.
Carper indicated any bipartisan agreement on funding would need the president's support.
"If we're going to have something as robust as $2 trillion, it has to be substantial," Carper said. "I don't expect him to be out there all by himself fighting for $2 trillion. If it's reasonable, hopefully we'll have the opportunity to help craft a package in the end, but [Trump] needs to show leadership."
The congressional leaders and the president are tentatively scheduled to meet again as early as May 20th to discuss infrastructure policy.