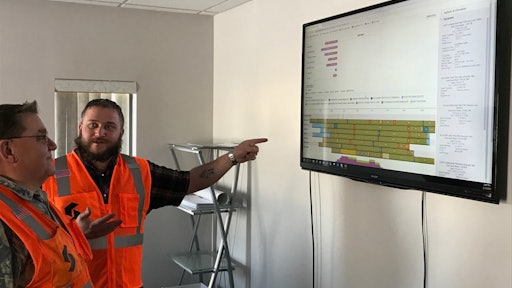 Construction sites have a lot of moving parts, making it difficult to manage strict deadlines and budgets. When one of those moving parts gets out of line or is late, the whole process grinds to a halt. And when those jobsites are spread across a multi-state region, those moving parts increase exponentially.
Just ask Shawn Smith, Central region Construction Operations Manager at Simon. Simon does bridge work, underground utilities and road construction across the west and operates in three regions, covering at least three states. Anything from aggregate hauling to paving, Simon Central region can cover with their fleet of over 25 owned trucks, and 40 leaser trucks, pavers and other equipment.
Between the construction and their leasing program, Simon's trucks could be anywhere from northern Colorado to Wyoming to Nebraska on any given day. To keep track of the trucks, their maintenance, and their productivity, Smith uses FleetWatcher Materials Management System (MMS), a GPS-based tracking and monitoring system by Earthwave Technologies.
KICKING MAINTENANCE IN THE ASPHALT
The MMS is a wireless telematics system that connects directly to the computer or bus of equipment, delivering real-time data to Smith's office. Smith has FleetWatcher installed in 97% of Simon's central region fleet, either hard-wired in or as a cigarette lighter adaptor.
"If a truck is rolling down the road for the Central region, it has a FleetWatcher in it," Smith said.
Knowing where each truck is at a glance gives Smith ease of mind and also helps him manage his fleet more efficiently. With little more than a few touches on a screen, he knows what's coming off the scale, where the truck is in the cycle and how to better dispatch with that truck in mind. Smith has his finger on the pulse of the project without being on site.
The first benefit was being able to break drivers' bad habits, including curbing some speeding. Drivers took the addition of the FleetWatcher well, since Smith framed it as helping the company, rather than watching them individually. LCA graphs then helped Smith determine which projects were over trucked and where hang ups were in the cycle.
Each of Simon Central region's 25 trucks need different kinds of maintenance at different times and places. FleetWatcher gives Smith Maintenance Due reports detailing the number of run-time hours before each truck is due for maintenance, and what kind it will need.
An easy-to-read print out indicates by red shading which equipment is past due and which equipment is within 36 hours of its next service with yellow shading. Maintenance hours can be tracked directly on the program, attaching maintenance and service life data directly to specific pieces of equipment. Smith can plan accordingly, and send road crews out to where the truck is, or pull the truck off the next project to fix it up before it needs fixing.
Real-time data and weekly maintenance reports allow Smith to stay on top of his fleet, ensuring every truck gets the maintenance it needs while preventing equipment mix-ups and downtime.
CONCRETE BENEFITS
Easy-to-read and up to the minute data has also helped Smith prevent equipment huddles and over trucking on Simon sites. A Breadcrumb Trail shows Smith detailed location information for trucks on the road: engine on, engine running, etc. Smith can also tell when trucks enter or leave a targeted Geozone, as well as their activity within the zone.
A line of asphalt trucks waiting at the paver is inefficient, as it increases the job costs as trucks idle and wastes fuel waiting their turn at the paver: FleetWatcher allows Smith to time out loading and unloading so the trucks spend more time on the road and less time idling at the job site.
Before FleetWatcher, many brokers like Smith would have to take pictures of timecards, send them via snail mail, or drive them three or more hours to get paid. With FleetWatcher, a virtual shift ticket gives Smith all of that information immediately, wherever the truck, the operator, or Smith might be.
Truck drivers, asphalt plant operators and foremen all have access to the real time data via an app on their phones.
"The truck drivers love it because they get to see where exactly the project is on a map so they can hit the road; the asphalt plant operators love it because it allows them to stockpile and prepare loads knowing exactly when the next truck will be ready to load," Smith said.
Even the job site foreman benefits from the real-time awareness of where trucks are and where they're going. The foreman can tell how many tons have come onto the site, which product was picked up, and eliminate any errors made along the way. FleetWatcher allows the Foreman to attach a weight to the truck specifically, rather than relying on a receipt from a scale clerk, which can be misprinted or incorrect.
With the trucks spending less time in line and more time transporting, the foremen can get a better sense of what the site really needs. The foremen can then coordinate with the logistics manager, and help prioritize and fulfill dispatch requests.
"Knowing our trucking information better helps us make better informed decisions on pending trucks, finding the best routes and decreasing huddle ups," Smith said.
SMOOTH ROADS AHEAD
It's not just Simon that's benefitting—FleetWatcher has also added value to the Wyoming Department of Transportation. Simon took a proactive step and gave Wyoming DOT access to Electronic Scale Tickets from the plants. Simon gave the DOT limited access to the FleetWatcher app so DOT can avoid the headache of having to get to all of the jobsites to collect tickets.
Simon's unique-to-the-industry technique is a win-win for truckers that don't have to stop for the DOT as well as the DOT, who doesn't have to go chase down Scale Tickets.
Since Smith first installed FleetWatcher, he knew Earthwave was on the same page as Simon's needs. Smith researched extensively and looked at over a dozen other systems before he found Earthwave. Within the first ten minutes of the FleetWatcher demonstration, Smith was sold: "we knew Earthwave was our preferred partner—they just spoke our language," he said.
Earthwave helped train Smith and other Simon managers on how to best implement FleetWatcher with their operators. Smith was nervous that the drivers would think they were being watched, but Smith communicated to them that the monitoring was to help improve the company and make the drivers more efficient.
In the coming year, Smith hopes to implement E-Log, FleetWatcher's comprehensive app portal to track records of duty status and driver vehicle inspection reports with camera integration.
"We're going to see a lot more improvements as we implement FleetWatcher more fully, but right now being able to see where everything is and dispatch trucks out accordingly is a huge benefit," Smith said.
FleetWatcher tracks Simon's trucks so Smith doesn't have to. Instead, he can use real time information to problem solve, target potential issues, and make his fleet run more efficiently, preventing huddle ups and line ups while keeping trucks on the road.
Companies in this article