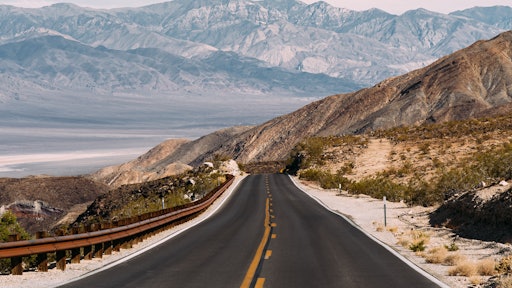 Ricardo Esquivel/Pexels
While stay at home orders are helping our country to flatten the curve and help stop the spread of COVID-19, the negative impact staying home is having on gas tax revenues in each state is adding up fast. With the nation driving less, states are facing significant funding shortfalls, delaying and in some cases even cancelling transportation projects. 
In Illinois alone, the Illinois Economic Policy Institute (ILEPI) predicts that COVID-19 related tax revenue losses could cost the state $4.3 billion between 2020 and 2021 and as much as $28 billion by 2023.
"The downstream effects of the COVID-19 economic disruption will extend far beyond the immediate hardships for businesses who have closed their doors and employees who have been laid off," said ILEPI Policy Director and study co-author Frank Manzo IV.  "Vital public services and planned infrastructure investments by both states and municipalities are being threatened by the loss of income, corporate, sales, fuel and other tax revenues on which they rely."
Those declines are crippling the six-year, $45 billion Rebuild Illinois infrastructure modernization plan passed by the state legislature and signed by Governor J.B. Pritzker (D) in 2019, ILEPI's research indicated.
Other States Feeling the Strain
As gas tax revenues drop in Washington, the Washington Department of Transportation (WSDOT), could face a 40% decline in revenue and a delay in projects. 
The Stay at Home, Stay Safe order in Washington has led to a pause on all but the most essential maintenance work. It also led to a sharp drop in how often Washingtonians hop in their cars and go somewhere. As of March 31, traffic in the Spokane area reached a low point, when it was down 42%, according to department data.
With less traffic, there is less gas tax revenue and WSDOT Administrator Mike Gribner estimates the department will be $100 million short on revenue -- per month.
The state's stay-home order was loosened this week and some projects are starting to proceed. However, Gribner says without a Federal funding package, the negative financial impact on future transportation projects "could be quite devastating" for the state. 
Their neighbor to the south, Oregon, is also struggling. Gas tax revenue and consumption plummeted in the past two months due to the COVID-19 crisis and Gov. Kate Brown's stay-home order. Travis Brouwer, Oregon DOT's assistant director of Revenue, Finance and Compliance, said the state agency is expecting to lose $125 million in gas tax revenue over the next year.
In Portland, residents will be voting to decide whether to renew a 10-cents-per gallon gas tax approved citywide in 2016. The renewal pitched to voters envisions a $75 million project list, including $25 million for paving projects across the city. The gas tax also is slated to funnel millions into new sidewalks, traffic signals and other safety projects.
Despite the drop in revenue however, the state is optimistic transportation projects won't be impacted.
"In the short term we don't anticipate there will be any real impacts to the roads as a result of this public health crisis," Brouwer said. "In the long run, depending on its duration, it's possible we have to make some adjustments.
According to a news story, the Maine Department of Transportation is expecting a roughly $74 million loss in transportation revenue due to COVID-19 over the spring and summer months, which could balloon to $124 million over the next year and half.
In California, the state may lose $1.3 billion in gas tax revenue during the coronavirus shelter-in-place period according to a scientist at UC Davis. The numbers appear in a new report from the university's Road Ecology Center, which shows that drivers consumed 85.8 million gallons of gas during the second week of April, a steep drop from the 349 million gallons pumped in the first week of March. At the estimated tax rate of 61 cents a gallon, revenue may have plunged by $161 million a week, the report said.
With gas tax revenue also plunging during the Coronavirus pandemic in Pennsylvania, the state is looking to Congress to bail out transportation projects. PennDOT Secretary Yassmin Gramian estimated that gas tax revenue dropped 30% — a $90 million loss — in April. Without assistance, the state may need to cut or delay projects slated for 2021.
The Minnesota Department of Transportation is facing a similar situation as it expects to see a revenue drop of $440 million over this year and next.
"There's going to be a significant decrease," explained Minnesota Legislator Scott Newman in a news story. "Our revenue for roads is going to go down, along with revenue for everything else. The question becomes: What do we do about it?"
Federal Funding Needed
Since early April, states have lobbied Congress to provide $50 billion of transportation aid. Stay-at-home orders across the country have caused gas sales to plummet, slashing gas tax revenue dedicated to maintaining and improving roads, bridges and other infrastructure.
As states begin to relax their stay at home orders, many say it will be impossible for states to overcome the negative impacts COVID-19 had on gas tax revenues. 
While Congress is expected to consider measures to provide additional support to first responders and others impacted by strained state and local budgets, researchers note that there are both public safety and economic factors that should inform an infrastructure component to these discussions. 
"Data shows that, after COVID-19, it will be even more important because these investments will not only generate tens of thousands of jobs, but billions of dollars in consumer spending—a game-changing economic multiplier we will need to drive an expeditious recovery across all sectors," Jill Gigstad, co-author of the ILEP study said.
Regardless of the pandemic, legislators need to decide on transportation funding soon. The federal government pays for 80% of most road projects, but its main funding source, the FAST Act, expires Sept. 30. Even if Coronavirus funding doesn't materialize, the outbreak has driven home how much the economy and public health rely on a sound transportation grid.
Is your state feeling the strain? Let me know at jlombardo@acbusinessmedia.com.