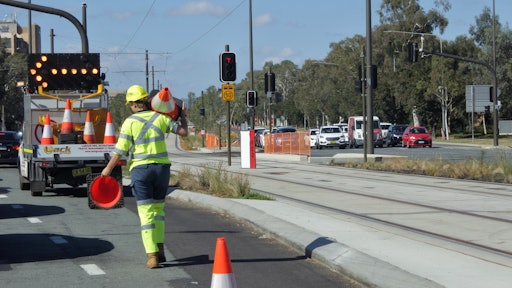 Rafael Ben-Ari/Adobe Stock
Workers in work zones are often vulnerable to traffic, work in low-visibility conditions and are close to heavy machinery, while people traveling by car, bike or on foot can struggle to navigate work zones. In the state of Oregon, the Oregon Department of Transportation (ODOT) has taken steps to make work zones safer and they even conduct a biennial safety review with the federal government to see how they are doing.
Still every year, on average, there are 488 crashes and five deaths in road work zones in, according to a report released by Oregon Secretary of State Bev Clarno. That figure includes both local and state projects. ODOT says their priority is roadway safety, but the agency occasionally struggles to balance safety and mobility needs during road construction project design
The report makes it clear that even though Oregon reviews factors like whether signs are clear and whether flaggers are visible and if traffic can move easily through a work zone, they could still be doing more to keep workers safe. The report suggested the state implement 10 recommendations to increase safety and efficiencies in work zones: 
Develop a template for the Transportation Management Plans to support greater consistency in design decisions between regions and clarify expectations for consultant designers.
Create more opportunities for traffic control designers to visit work sites during design and construction, which would bolster their working knowledge and better inform design decisions. For example, designers could regularly participate in ODOT's biennial work zone reviews in their regions.
Formalize a feedback loop between design and construction staff throughout the life of the project to enhance the viability of design decisions.
Create a charter for the Mobility Advisory Committee (MAC) to clarify its role in project delivery, level of responsibility, and standard voting procedures.
Once the charter is created, review MAC and Stakeholder Forum membership and perform outreach to ensure that the needs of diverse stakeholder groups are sufficiently represented during project delivery review.
Review, update, and align ODOT policies and procedures to clarify ODOT staff and stakeholder roles and responsibilities in the design review process.
Observe the administrative rule requiring the agency to engage with a specific group of stakeholders during Stakeholder Forums during the project delivery review process. Specifically, ensure that outreach to bicycle and pedestrian advocacy groups is regularly performed at the state and local level.
 Create comprehensive criteria for deciding which projects should be reviewed by the MAC.
 Ensure that new and existing criteria for MAC project selection reviews are applied.
Create and track performance metrics for the Mobility Unit and mobility reviews that take place during the design process.    
While conducting this audit, ODOT also identified another risk to work zone safety. Despite the benefits provided by having a police presence at construction work zones, the state lacks sufficient law enforcement resources to meet this need.
Having law enforcement presence at road construction work zones is considered an effective traffic control countermeasure which can significantly improve safety. This was reiterated by many of their interviews which included construction workers who stressed how beneficial law enforcement presence is to improving safety in and around work zones. Through a steering committee and task force, ODOT has worked closely with law enforcement leaders in recent years to maximize the resources that are available to provide coverage at work sites. Despite these efforts, it is simply not possible to have law enforcement presence at all the work zones where it is desired, so ODOT and construction workers take additional steps to mitigate risk to the extent possible. 
We applaud Oregon for dedicating time and resources to this issue and hope other states begin to prioritize work zone safety in this way.