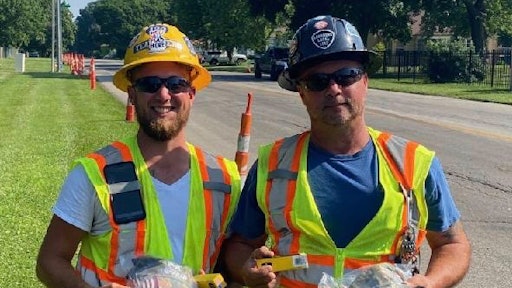 Reith-Riley Construction/Facebook
The world is sure facing its fair share of uncertainty, but from where we're sitting, things look pretty much the same. The asphalt industry has been lucky to be sheltered for the most part from the effects of the Coronavirus. Companies are still out there working, wearing their masks and following all CDC recommended guidelines to keep their workers safe. 
On top of the pandemic, we are in an election year in a country that has been jolted by unrest for most of 2020. It's been exhausting. 
There is one thing that we knew we could count on in 2020, however. And that is each other. The asphalt industry has always been known for its camaraderie and reputation to help one another and we think it's important to highlight these stories.
Asphalt Workers are Heroes
Helping each other and the communities we live in is the cornerstone of our industry. We have seen many different stories of companies donating their time and materials to complete work for those in need.
Recently, Cincinnati Asphalt was called to complete an estimate to seal a driveway. When the crew we met Gary , they quickly found out that he is a true American hero. Gary was a Combat Veteran who had just beat Cancer for a second time and someone also had stolen his American Flag off of his front porch.
"It is because of people like Gary that we are free to live in the Greatest Country in the World, so we couldn't charge him for his driveway," Joey Madden, owner of Cincinnati Asphalt said. "Cincinnati Asphalt loves our Veterans, and donating this project to a hero like Gary is a small gesture of thankfulness for his service and sacrifice to our Great Country. We also were excited to get a new flag for his front porch for him to display proudly."
Reith-Riley also has two Asphalt Angels on their staff. Chris and Cody Kittlaus, father and son, were working on paving crew when they saw a moped hit by an SUV. Chris and Cody both witnessed the accident and responded quickly. They used one of their Reith-Riley construction vests as a tourniquet and rendered first aid, saving the moped riders life. Both father and son went above and beyond and we are so proud to be in the same industry as them. Great job gentlemen.
We love stories like this and want to share them with the world. Do you have news on how the asphalt industry is helping make our world a little better place? Let me know at jlombardo@acbusinessmedia.com and listen for stories of these true heroes in our new weekly video series, Hops & Highways. Stay safe out there and keep up the hard work!