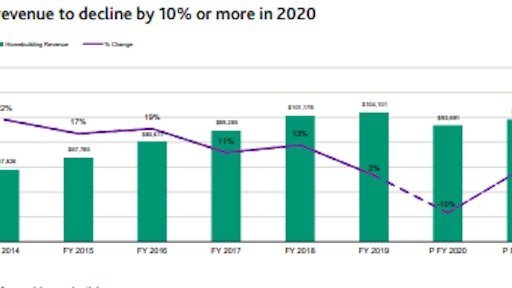 Moody's Investor Service's March 27 outlook for U.S. homebuilding has taken a negative turn based on the economic slowdown due to the coronavirus and rising unemployment. The negative outlook reflects Moody's expectations for fundamental building conditions in the industry over the next 12 to 18 months.
"Our negative outlook for US homebuilding reflects the expectation of a slowdown in home sales during the coronavirus outbreak," according to the latest report. "Homebuilders' 2020 results will be dampened by a meaningful slowdown in home selling during the second quarter 2020, with an improved, but still weaker environment, in Q3 and Q4 2020 — compared to 2019."
The outlook is reflective of Moody's macroeconomic forecast for a 2% decline in real GDP in in 2020, including a 4.3% decline in Q2. It anticipates improvement in the second half as fiscal and monetary stimulus efforts take hold.
Given the likely near-term pause in the U.S. economy, Moody's is forecasting homebuilders' revenue to decline by 10% or more in 2020. It also expects industry gross margins to weaken to 19%. These figures compare to a 3% growth in aggregate revenue and a 20% average gross margin generated by U.S. homebuilders in 2019.
The forecasted revenue decline is in anticipation of a difficult spring selling season as homebuilders face slowing of new home orders and increasing cancellations of existing orders in Q2 resulting from a substantial weakening of employment. Lower interest rates and homebuilder incentives will help but are not expected to offset weaker consumer sentiment in the short term.
On the positive side, underlying homebuilding fundamentals remain solid. "Lack of housing oversupply, low interest rates supporting affordability, and favorable demographics will result in pent-up demand once economic conditions stabilize in 2021 and employment figures improve," the report states.
To read the full report, click here.
Moody's: Repair Materials, Cement Industries to Hold Up Best if Recession Hits in 2020
What's in the $2 Trillion Coronavirus Stimulus For Construction Businesses & Their Workers?