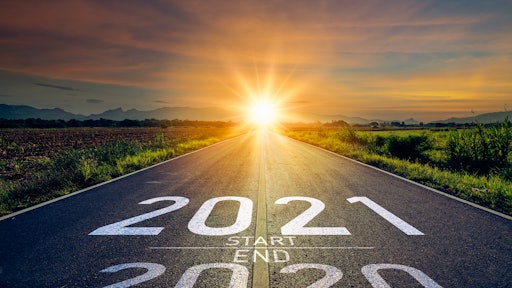 Each year with our State of the Road Building industry report, we seek to give contractors in the asphalt industry some idea of what the year ahead will bring. If 2020 has taught us anything, it's that no one knows what the future holds but we know we are stronger for the challenges the year presented us. We survived project cancelations and layoffs. COVID-19 protocols and dwindling revenues. Civil unrest and a tumultuous presidential election.  
So where does that leave us for 2021? We talked with industry experts about what happened in 2020 and how that will shape the road building industry in the coming year. While contractors may have apprehension for the year ahead, experts say there are reasons to stay positive.
"We are optimistic that the new Administration and Congress can come together to address infrastructure issues early in 2021," Ed Mortimer, vice president, Transportation Infrastructure, United States Chamber Of Commerce says. "As we look toward economic recovery, a major infrastructure bill would create good paying jobs, improve every citizens quality of life and ensure economic vitality for many years to come."
As we continue to try and put 2020 behind us, see why experts are cautiously optimistic for 2021. 
Funding in the Time of a Pandemic
Let's start with some good news. In 2020, Congress did pass a one-year extension to the Fixing America's Surface Transportation (FAST) Act. While it was not the long term authorization we were hoping for, it is a win for our industry given its current state. How will this extension impact the industry and what can we expect for 2021?
Audrey Copeland, president and CEO, National Asphalt Pavement Association (NAPA): The asphalt pavement industry was grateful that Congress passed a one-year extension of surface transportation reauthorization programs. However, it is still imperative that a multi-year highway bill be enacted to maintain and improve highway infrastructure, avoid project delays, and provide proper investment for Highway Trust Fund solvency, which needs a sustainable revenue source.  Congress still needs to clear a full year transportation appropriations bill along with additional highway funding to stimulate the economy.  There is a tremendous amount of pressure on Congress to do this during the lame-duck session.  The 116th Congress still has work to do for the construction industry to know what the publicly funded highway market will look like in 2021.  Any issues not addressed during lame-duck will get kicked over into the 117th Congress, a scenario that the industry would like to avoid.  
Ed Mortimer, vice president, Transportation Infrastructure, United States Chamber Of Commerce:  While disappointed the Administration and Congress weren't able to come together on a long-term surface transportation reauthorization, we were pleased that on a bipartisan basis Congress agreed on a one-year extension with an additional $13.6 billion for the Highway Trust Fund, ensuring no interruption in federal highway and transit funding. This gives the new Administration and Congress time to build upon the work done in the previous congress and enact a long-term, well-funded bill.
Alison Premo-Black, chief economist, American Roads & Transportation Builders Association (ARTBA): While the one-year extension of the FAST Act provides stability for state transportation programs during a time of uncertainty, it does not provide any increase in revenue. The extension bill maintains surface transportation programs at current levels of $47.1 billion for highways and $12.3 billion for transit programs.
States may see an opportunity for additional funding as Congress finalizes the FY 2021 spending bill in December.  Between FY 2018 and 2020, Congress approved an additional $15 billion for transportation programs through the annual appropriations process.  If they choose to do so again in FY 2021, this would provide additional revenue to help states over the next year. 
Anirban Basu, chief economist, Associated Builders & Contractors and Owner of Sage Policy Group: The one-year reprieve is simply more of the same. Congress remains both unwilling and unable to create funding mechanisms that allow for more forward-looking infrastructure planning. Instead, America groans from one year to the next, largely placing band-aids on roads, bridges, runways and seaports rather than supporting the next generation of solutions. America's infrastructure deficits continue to expand, and that jeopardizes U.S. supremacy in the 21st century.
Bob Huitt, president, Asphalt Emulsion Manufacturers Association & Larry Tomkins, president, International Slurry Surfacing Association: The one year extension means that states will not be as ambitious with large, long-term infrastructure projects given the uncertainty of future funding beyond the next year
As the American public continues to drive less due to the COVID-19 pandemic, gas tax revenues that were already in trouble, are now in even worse shape. What can be done right now at the federal level to help State DOTs feel more confident in their abilities to let future work? 
Premo-Black: Federal investment accounts for an average of 50 percent of state transportation program capital outlays, which includes construction work, right of way purchases and planning and design activities.  A long-term, sustainable increase in federal surface transportation investment would help spur real market growth in some states and offset any potential pull-back in other programs.  
While some states are continuing to face significant transportation revenue shortfalls, others have reported a recovery in revenues as traffic volumes and economic activity have increased. State governments are addressing the revenue shortfall in different ways. Some plan to issue more bonds and maintain capital programs.  Overall, there are at least 18 states and 25 transportation authorities that have announced project delays or cancelations of nearly $12 billion. This includes states that have delayed a handful of projects and others that have made more widespread cuts.   
We expect to see some states pull back on capital projects in 2021, while others will continue with their programs as planned.   
Basu: The federal government must engage in a multi-pronged approach, both raising the gas tax and finding new mechanisms to finance infrastructure upgrades.  These can range from user fees to a federal retail tax, which would not only raise more for capital expenditures, but induce more Americans to save for retirement.
Copeland: In the short-term, Congress should address and include the funding relief the state transportation departments requested through the American Association of State Highway and Transportations Officials. This would help them deal with the impacts of suppressed gas tax revenues due to COVID-19 by growing the job market and the economy. In addition, NAPA supports temporarily making Federal-aid Highway funded projects eligible for a 100 percent federal payable share in order to give states the opportunity to address their revenue shortfalls 2021. In the long run, the best thing Congress could do would be to enact a multi-year surface transportation bill with increased funding for highways and include as part of the legislation a sustainable revenue source for the Highway Trust Fund.  
Do you foresee Congress passing another Coronavirus relief bill that includes infrastructure funding for states?
Mortimer:  The Chamber is continuing to push for congressional action in a COVID relief bill that will provide emergency funding to state department of transportation's and transit agencies who have lost revenue due to the pandemic. This is much needed investment that must be made at the federal level to ensure no disruption in state transportation programs. We also believe early action on an infrastructure bill will provide a blueprint and certainty for states to make much needed modernization investments.
Copeland: The industry will continue to urge Congress to pass another COVID-19 relief package before the end of the year (2020) that provides immediate financial relief for state departments of transportation. This will allow state DOTs and the transportation infrastructure industries to remain on the job and continue the essential work necessary to maintain and improve our critical surface transportation network.
Basu: Yes, and that stimulus package will not only include infrastructure, but will be massive. 
As states continue to scrape by filling potholes and completing emergency work, what impacts will this have on our infrastructure with states unable to complete necessary long term projects?
Copeland: According to the 2019 FHWA Conditions & Performance Report, over the next 20 years the funding that will be required to rehabilitate and reconstruct pavements and other operational conditions will average $53 billion annually. Meanwhile, projected spending is estimated at only $41 billion annually.  The costs of a deficient roadway network would be severe according to the FHWA C&P Report, totaling $4.2 trillion over 20 years. This has social, economic and environmental impacts, for example travel delay costs for auto users, excess petroleum-based fuel used by autos and trucks, and direct time costs of truck delays. Major rehabilitation and replacement projects are important in that they enhance the nation's long-term economic competitiveness. People benefit too because highway expansions and upgrades shorten travel times, enhance safety and save lives.
Mortimer: This is a prime reason why our coalition of business and labor have come together to urge prompt action early in the new year. The Chamber has launched a Build by The Fourth of July (www.letsrebuildamerica.com) campaign which will bring together diverse stakeholders urging Congress to enact a long-term sustainably funded infrastructure package by July 4.
Huitt & Tompkins: Presumably long-term projects are meant to solve capacity issues. States need to reassess their infrastructure needs. Interstates need to be addressed as they are used to transport goods and help drive our economy. However, inner city projects could be delayed since commuting is down and there are no longer gnawing capacity issues.
Basu: America will continue to fall behind along the dimension of infrastructure. That has many ramifications, including for both multifactor and labor productivity.  It is ultimately growth in productivity that translates into higher living standards. By not investing with sufficient scale, scope and foresight into infrastructure, America is dooming itself to slow household income growth, more people who need to work multiple jobs to make ends meet, and less government revenue to close sizeable budget gaps.
Huitt & Tompkins: The impacts are that our quality of life goes down. With more bridge closures and deteriorating roads, it makes it difficult to do the things we are need and want to do on a daily basis. Such as getting food to grocery stores or getting kids to school or getting to the beach for a vacation.
The pandemic has solidified the fact that solely using gas tax revenue to support the Highway Trust Fund is not an adequate solution to fund our failing infrastructure. What should the solution be to shore up the HTF for the future?  What method(s) do you suggest?
Huitt & Tomkins: First of all, raise gas tax while fuel prices are way low.  Second, federal and state governments should do a better job of managing their scarce funds and spend the money where they get the biggest bang for their buck.  Not necessarily worst-first.
Basu: The American Society of Civil Engineers has put forth many brilliant, workable ideas to bolster infrastructure spending. Naturally, these solutions go well beyond the gas tax. User-based fees represent a critical component to stepped up funding. Public-private partnerships, though not panaceas and accompanied by risk, are also important elements of the solution. 
Copeland: The House and Senate in their respective surface reauthorization proposals include no details on how these bills will be funded.  Congress has been patching the hole with General Fund revenue transfers into the highway account to cover the Highway Trust Fund shortfall.  We expect Congress next year to pass a budget and reconciliation bill where the Highway Trust Fund solvency issue should be addressed. In terms of funding the future of the program, Congress must consider a combination of an increased gas tax (in the early years) indexed to inflation, and some type of user-based fee like vehicle miles traveled (VMT) in order for the Highway Trust Fund to be sustainable.
Premo-Black: Over the last decade, states have taken significant steps to diversify their revenue streams. While state gasoline and diesel fuel taxes continue to be the cornerstone of transportation revenue initiatives, many states have included changes to other revenues sources as part of a broader package. These include motor vehicle registration and licensing fees, alternative vehicle fees,and revenues from other transactions, such as rental cars fees and occupancy taxes.
There are now 22 states that have a variable gas tax rate component, which means that part of the rate changes automatically based on a published indicator, such as inflation or the wholesale price of gasoline.  This helps states protect the purchasing power of their motor fuel tax revenue.
Mortimer: The Chamber believes in a need for a sustainable source of revenue for the Highway Trust Fund. We have maintained that we are willing to work with any party, industry, labor, local or state leaders to spur economic growth by reinvesting in America's infrastructure, and we welcome all ideas to fund infrastructure improvements. In the short term, the Chamber has advocated for an adjustment the federal motor fuel tax of five cents per year for a five year period. That would generate $400 billion over ten years for highway, bridge and transit investment. We also need to continue to move forward on fully implementing a vehicle miles travel (VMT) mechanism that will maintain the user based concept and ensure all alternative fueled vehicles pay into the much needed investment. We are following VMT pilot programs in over 10 states and believe it can be ready at the federal level in 10 years.
A New Political Landscape
Starting in 2021, there will be a new presidential administration and a new Congress. While some in the industry are worried, many experts have hope that infrastructure funding may be one of the few bipartisan things that can gain traction in the new year. Do you believe we will we see broad federal funding legislation passed in 2021? How will this impact the road building market?
Copeland: I believe the Members of the 117th Congress and the President-elect heard loud and clear what the voters want. Voters want action to bring the pandemic under control, put people back to work, and keep our economy open while rebuilding communities and working together towards a stronger future for our country.  A key part of the legislative agenda in 2021 will be enactment of a multi-year surface transportation authorization bill before the FAST Act extension expires on September 30, 2021.  Lawmakers know that investments in infrastructure get people quickly back to work and strengthen the economy.  I expect to see significant increases in infrastructure investments that will positively impact the road building market.  
Basu: If one presumes divided government, with Democrats controlling the White House and Republicans the Senate, there may end up being less stimulus than there would have been under one party control. There is, however, at least one item upon which Democrats and Republicans seem to agree, and that's on the need for greater infrastructure outlays. Accordingly, it appears that infrastructure spending may benefit from the outcomes of this year's elections.
Mortimer: We are optimistic that the new Administration and Congress can come together to address infrastructure issues early in 2021.  As we look toward economic recovery, a major infrastructure bill would create good paying jobs, improve every citizens quality of life and ensure economic vitality for many years to come.
Premo-Black: Congress will have to address the issue of federal surface transportation investment as the extension of the FAST Act is set to expire on September 30, 2021.   The good news is that there was legislation approved in Congress last year that called for a robust increase in federal spending.  While these measures do not carry over into the new Congress, they do set a precedent. 
The Senate "America's Transportation Infrastructure Act" was approved by the Senate Environment & Public Works Committee in July of 2019 and called for $278 billion in highway program funding, an increase of 27 percent over the FAST Act.  The House INVEST in America Act, approved in July 2020, would have provided $319 billion in federal highway program funds.
Transportation has traditionally been a bipartisan issue and one area where members of Congress can come together.   Voters continued to show this at the ballot box where they voted on 335 state and local transportation funding measures.  A record-high 94 percent of measures were approved in 18 states across the country, including Arkansas, Michigan, Ohio, Texas and Washington.  
How would our infrastructure investment possibly change under Biden? Should the industry be afraid of his approach to sustainable initiatives?
Mortimer: The Chamber is ready and willing to engage in conversations with many companies to bring innovation and technology in building 21st century infrastructure.  While we may differ on some of the specific proposals, the business community wants to be engaged in building modern infrastructure that will improve the environment and be resilient to last for many years.
Copeland: During the 116th Congress there has been an increased focus on carbon emissions reduction, resiliency, and recyclability.  A change in Administration will not shift that priority but will amplify it.  The asphalt pavement industry has a long history of implementing sustainable technologies and is actively engaged in multiple efforts to reduce the carbon footprint of pavements. Transportation vehicles are one of the largest sources of carbon emissions in the U.S. With over 90% of America's roads surfaced with asphalt, building and maintaining pavements in good condition or better plays a significant role in creating a low-carbon transportation network. When it comes to asphalt pavements, emission reductions can be achieved through expanded use of proven technologies and optimized design and construction practices. NAPA will be working with the 117th Congress to continue to further reduce the carbon footprint of pavements by providing adequate funding through the next transportation reauthorization bill to keep existing roads smooth through timely maintenance, rehabilitation, and reconstruction projects.
Huitt & Tomkins: I think Biden has a better chance of passing infrastructure funding.  The concrete paving industry should be afraid of sustainable initiatives not the asphalt paving industry.
Will the road building industry suffer under Biden if he works to reinstate regulatory reforms Trump has put in place?
Basu: The regulatory environment will change meaningfully under a Biden presidency, but not for all industries.  Among the most impacted industries will be oil, natural gas, and coal.  Firms in these segments are likely to face a more expensive regulatory framework, ultimately translated into less output than there would have been under a second Trump term.  That will impact related construction.  However, alternative energies will receive greater support, including wind, solar, and batter technologies. 
Copeland: It is important for the industry to read "Build Back Better: The Biden Plan to Build a Modern, Sustainable Infrastructure and an Equitable Clean Energy Future."  Under the plan, a Biden Administration will push for "a series of policies to build worker power to raise wages and secure stronger benefits," including expansions in union representation and collective bargaining, maintain Davis-Bacon, Project Labor Agreements, and expand Buy America.  As with all campaign proposals, the challenge is in the details.  NAPA will be working closely with a Biden Administration to provide insight on how regulatory relief has proved beneficial and ensure the potential impacts of any regulatory reform are well understood by the policymakers.  
What other changes can the industry expect to see under Biden?
Basu: Under Biden, there will be a push toward more comprehensive health insurance coverage.  All things being equal, that should translate into more healthcare facility spending during the years ahead.
Huitt & Tomkins: I think the long-term economy will suffer some. Spending on social programs, education, health care and environmentally friendly initiatives will increase. I would expect less gasoline consumption which would lower gas tax revenues unless gas tax is increased or a better user-based fee is implemented.
Finding Workers & Keeping Them Safe
With many workers losing their jobs in the pandemic, the construction industry has seen far fewer layoffs. Has this positively impacted the worker shortage or are companies still desperate to hire skilled workers?
Basu: Unfortunately, construction skills shortages will remain after the pandemic. While it is true that construction has lost nearly 300,000 jobs on a year-ago basis, past experience suggests that many construction workers will retire or find opportunities in other industries, including in e-commerce (e.g. drivers, fulfillment center workers). The industry continues to experience elevated retirements and too few young people entering the industry. However, with unemployment elevated and people scrambling for middle income jobs, more young people may be induced into considering the skilled trades.  Emerging training platforms, including those using virtual reality, may also induce more young people to enter the trades.
Huitt & Tomkins: This industry is still desperate to find skilled workers without the pandemic.  I think it positively affects the worker shortage issue however I think companies that have robust training programs will create a long-term competitive advantage for attracting and keeping workers that create value.
Mortimer: The need for skilled workers continues and the Chamber is supporting efforts to provide the job skills that can ensure our nation has the workforce necessary to build a 21st century infrastructure.
What do you suggest we do as an industry to help create a larger pool of workers for the future? 
Copeland: We need to identify opportunities to develop programs with schools, technical colleges, and universities, and then create a national support network that raises the profile of industry opportunities. Since most workforce development initiatives currently focus on the people already employed in the asphalt pavement industry, it's crucial to target people outside the industry. 
A great example is when the Asphalt Pavement Association of Indiana began collaborating in 2017 with the Indiana Chapter of Future Farmers of America to introduce asphalt opportunities to agriculture students. The result was the first ever Ag2Asphalt Day in 2018, where asphalt producers, paving companies, and equipment and materials suppliers, as well as colleges, participated in a career fair and offered hands-on experiences with construction simulators. We should continue to expand the philanthropy of the industry – especially through vehicles such as the NAPA Research & Education Foundation – and share the success stories of those communities and individuals impacted by our support and commitment to diverse recruitment. 
Huitt & Tomkins: We need to create workforce development programs and market the road construction industry to high schools and universities.
Basu: To expand the pool of workers, construction must expand access to virtual training opportunities in addition to expanding the scale and scope of apprenticeship programs.  Too many young people look askance at construction, deeming it to be a less satisfying industry than those that align more neatly with college degrees.  In short, the industry has to appear and be cooler.  This involves marketing to young people, expanding the use of cutting edge technologies both for purposes of training and in the delivery of construction services, and emphasizing the wages, benefits and entrepreneurial opportunities that accompany the trades. 
Companies that have been busy with work have also been tasked with keeping their workers safe from the virus. Has this negatively impacted productivity or are companies taking these challenges in stride and moving forward?
Premo-Black: Businesses across the country and all industries have had to adjust because of COVID-19.  This includes enhanced measures that add necessary costs to keep workers and customers safe.  Transportation is also a core business expense. To the extent that an increase in federal, state and local investment can help reduce those transportation costs in the short and long term, this will help offset the increase in other business costs and support longer-run gains in productivity.        
Huitt & Tomkins: I think companies have done a really good job at meeting the challenge and we have not seen a decrease in productivity. Less travel and entertainment costs due to virtual meetings has been a positive.
Copeland: Companies treat coronavirus like other hazards by first recognizing how exposure occurs and then controlling for that exposure. Initially some of the state mandates and federal guidance were unclear and that created uncertainty and confusion, especially for companies that operate in more than one state. Once proper PPE was put in-place, for example face coverings, sanitization and social distancing, productivity was not significantly impacted. However, due to media attention, some employees might have focused too much on protecting themselves from the coronavirus at the expense of paying equal attention to other daily construction hazards. 
Mortimer: We have seen companies continue to operate and even thrive while ensuring their workforce and customers remains healthy and safe. The Chamber continues to promote important things such as wearing a mask, maintaining social distancing and washing hands until a vaccine is available in the near future.
A Look to the Future
In a time of rapid change in order to survive, have there been procedures that have changed for the better? (i.e. use of more e-ticketing and online collaboration software) How is this benefiting contractors?  Has the pandemic helped or hindered contractor adoption of technology?
Copeland: All change can bring challenges, but it also brings opportunities.  E-ticketing use has increased significantly, and it can streamline recordation for jobs and improve the speed of communication with owner agencies.  Some states have started virtual training and certification programs, which allow personnel to be certified without the time and travel cost associated with going to a several-day course usually only offered in a few locations throughout a state.  
Basu: I don't quote Lenin often. It's generally frowned upon in America. But he is quoted to have said, "During some decades, nothing happens. And during certain weeks, decades happen." The pandemic will accelerate technology adoption. Some will be left behind in this process, while some will achieve market success beyond their wildest imaginings.
Huitt & Tomkins: Anything that can streamline paperwork or can get work done quicker than before is a good thing.
How can contractors be prepared for change and what can help them adapt faster?
Copeland: Stay involved in organizations, such as NAPA, which tracks all of the industry news and provides resources for members. We host meetings and webinars as well as publish technical publications, reports, articles, podcasts and more to help asphalt contractors handle the changing environment in which they work. Our on-staff subject matter experts are available to talk one-on-one with members to help them understand what is happening at FHWA and owner agencies, and to know what is coming down the road regarding specifications, funding, regulations, and technology. Have a vision for the future and fortify that vision with the right people (workforce) and equipment to achieve those goals.  Network and benchmark with non-competing companies that are focused on advancement of their company and the industry as a whole.  
Basu: There are certain people who are always reading; who are continuously focused on new developments and the ways the world is changing. Some of these people are young, and these are the types of people who should be encouraged to join businesses and to have a seat near the head of the table. While not everything they will say will be brilliant or workable, their presence may induce thinking beyond current circumstances. That can help businesses evolve faster, which is precisely what they will need to do in the post-pandemic world.
Huitt & Tomkins: Contractors should become more involved in their industry associations to leverage the power of many to prepare and adapt to change.
What innovations (i.e. plastics in asphalt/rejuvenators, etc.) do you think will disrupt the road building industry in 2021? 
Copeland: Time and research will tell if recycling plastics into our mixtures is smart, and the industry embraces that discovery process. Over the past year and a half, a NAPA task force has been looking into the use of plastics in asphalt mixtures. In partnership with the Asphalt Institute, this task force has commissioned the most comprehensive state-of-knowledge document written by the National Center for Asphalt Technology (NCAT) and has developed an industry position document. Additionally, NAPA has championed research problem statements that are being funded by the National Cooperative Highway Research Program to answer questions that are absolutely critical to understanding if plastics are viable in asphalt. 
Additives such as recycling agents continue to present opportunities to expand the industry's impressive commitment to environmental stewardship. There also remains an emphasis on performance testing and balanced mix design, which presents several opportunities for the industry to continue to deliver the best solution at the lowest life cycle cost for our customers and the traveling public.   
Huitt & Tomkins:  Yes, tire rubber, plastics and rejuvenators will continue to disrupt the industry. Our roadways will continue to be utilized as a linear landfill. Sustainability initiatives will do more to disrupt the road building industry than innovations in materials.