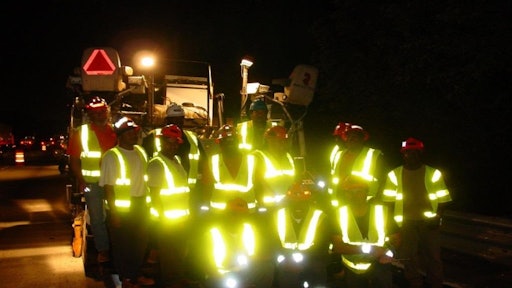 CRH Americas Materials
Work zone safety is everyone's responsibility. It takes contractors, engineers and traffic control plan supervisors to properly plan and design the work zones; flaggers to guide the public through the work zones; drivers, cyclists and pedestrians to remain alert and pay attention while entering and driving through the work zones; and local and state government, area police and emergency responders to help ensure that everyone goes home safe at the end of the day.
Still in 2018 there were 124 construction workers killed in work zones according to the Work Zone Safety website.
"To put this in perspective, if this many people had died in a single airplane crash, the world would be demanding action," Crystal May, vice president of Safety and Environmental Operations at CRH Americas Materials says. "However, since this has happened cumulatively, the outrage from the public is not there, but why? I can assure you the families of the workers that died and those in the industry feel the need for safer work zones is immediate and necessary."
During her session, "Maintaining Safer Work Zones" during the World of Asphalt "People, Plants & Paving" digital conference, May offered several tips to help improve work zone safety.
Safety Inside the Barrels
While many companies are focused on keeping workers safe from the traveling public, it's important for companies to understand that safety starts with each and every employee and that safety needs to be a priority in everything they do.
"We start each day with a safety huddle," May says. "This is different than a tailgate talk because safety is the focus. Every safety huddle works to either mitigate or eliminate hazards and puts everyone on the same page for what is happening in the jobsite each day. It gives workers a sense of relief to know what the plan is."
CRH also works hard to increase visibility of their workers and their equipment on the jobsite. Every worker is supplied with high-vis personal protective equipment (PPE) and a Halo Safety Light for their hard hat. The company also works hard to increase equipment visibility.
Each CRH machine has LED lights and reflective tape so they are more visible at night. They don't just light the pavers, they make sure light haul trucks, distributors and other ancillary equipment will also be seen at night. CRH ensures each work zone is well-lit for night work which notifies the motoring public of worker presences.
"We also ask project managers to drive the job multiple times a week to ensure workers are being seen but to also make sure the driving public doesn't have glare issues with our lighting," May adds.
Communication on the jobsite is also key. Workers need to be able to effectively talk to each other over the loud equipment that surrounds them. This makes communication devices like headsets and walkie talkies an important tool for your workers.
"If we're asking an employee to do a job, it's incumbent on us to make sure we're giving them the tools to do it safely and effectively," May says.
Internal Traffic Control Plans (ITCPs) are also an important part of keeping your workers safe inside the barrels. An ITCP helps to protect workers on foot in the work spaces of the work zone. Because workers must often work close to large vehicles and equipment, the movements of workers, equipment and vehicles must be well coordinated. May says that these plans should be drawn out every day and shared with heavy haulers coming in to the jobsite so everyone is on the same page.
Other safety additions include paver lights for operators to notify haul trucks when they are ready to accept materials, instituting "no phone zones" while on the jobsite, adding RFID sensors to workers and equipment, and also back up cameras/alarms so workers can see what's happening around them.
Safety Beyond the Barrels
We can do everything possible to keep our workers safe, but the traveling public also has to do their part. Devices such as attenuators and rumble strips can be used to alert motorists to upcoming work zones, but more needs to be done to help prevent intrusion.
CRH created the AWARE system to help with this.
"AWARE is our advanced warning and risk evasion system," May says. "It's a technology we developed to alert employees if there is a work zone intrusion."
The AWARE system includes one or more sensors, a GPS-based alert unit for the worker, a number of threat deterrents, and a base station app for iPhone and iPad.
The sensors use radar to track the position and trajectory of vehicles within a range of up to 600 feet. When a vehicle is about to enter the work zone—when the sensor detects it as a threat—the sensor triggers audio and visual warnings for the driving public and individual alerts for workers who might be in harm's way via their GPS-based units. The system will also begin recording video with an onboard camera for use in accident investigations, if necessary.
Today, there are two different types of solutions within the AWARE system. One is a freestanding cart to set up by the flagger and the other is dedicated to safety in the work zone. The system can be used for a number of applications, from line striping and traffic control setup, to multi-lane construction, flagger safety or lone-worker scenarios like road maintenance and sign placement.
If there are ever opportunities to keep workers off the road, like with automatic flagging devices, May says your company should take advantage. May also says that effective signage, even those that appeal to the emotions of drivers, will help keep drivers alert that there are workers ahead.
When possible, May says work zones should build law enforcement protection in to the bid. "This is the number one thing our employees say is the most effective for controlling driver behavior in work zones," she says. "When you are able to have law enforcement on site, make sure they are positioned correctly to provide the best protection possible."
Some states have also started to deploy automatic speed enforcement in work zones which is a very effective way to keep motorists from speeding through work zones.
As Work Zone Safety Awareness Week approaches, April 26th-30th, it's important for everyone to consider what can be done to protect our workers. Not just one week a year, but every second of every job. What work zone safety initiatives work best for your crew? Let me know at [email protected].