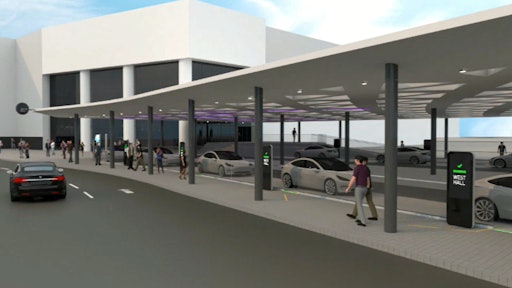 Las Vegas Convention Center and Visitors Authority
Navigating a trade show at the ever-expanding Las Vegas Convention Center can be a challenge when the weather is mild, but when temperatures soar, it can be a downright daunting task. It is approximately a mile and a quarter from one corner of the Las Vegas Convention Center campus to the other. The Las Vegas Convention and Visitors Authority (LVCVA) needed a solution to move attendees and exhibitors across the campus in a seamless way
The LVCVA turned to Elon Musk's The Boring Company to create an underground solution. The resulting project pushed the technology envelope forward.
"This is the first time that underground boring technology tunnels are coupled with autonomous vehicles to create a people mover system," says  Brian Yost, LVCVA's chief operating officer. The system consists of two surface stations located at either end of the campus where autonomous Tesla cars will emerge from the tunnels to serve as pick-up and drop-off locations. "The central station, which is located beneath what we call the Silver lot directly in front of North and Central Halls is 40 ft. below ground."
The project shortens the time attendees waste walking across campus. "The Las Vegas Convention Center Loop is going to reduce what would be a 20-minute walk from one corner of our campus to another to about a minute and a half ride in an autonomous Tesla in a tunnel that goes directly under our campus," says Yost.
The construction of the project required groundbreaking technology that can serve as a template for future people mover projects in congested areas. "We considered a number of alternatives for moving people across the campus," says Terry Miller, LVCVA owner's representative. "We thought about overhead monorails. We thought about tires on the ground. This particular opportunity that Elon Musk's company brought to us gave us some insight on how we could be less disruptive than the others in terms of being able to move people across the campus underground." This eliminated concerns with cross traffic and didn't interfere with trade show operations.
The system offers a scalable solution to meet the needs of varying trade show sizes. "The maximum capacity is estimated to be 4,400 people per direction per hour," says Yost. That is utilizing approximately 60 autonomous Tesla vehicles moving back and forth. Estimated speeds are anticipated to be 35 mph. The system is set up to be both point to point and express from one end to the other.
"If you wish to go from one station to the furthest other station, you can do so without stopping in the middle," Yost adds.
For smaller shows, you simply remove the desired number of vehicles out of the system to reduce capacity.
Careful planning was required
The project required a lot of advanced planning before tunnel boring could begin. There were regulatory issues to resolve since running autonomous vehicles in tunnels had not been done before. Best placement of the people stations for the people mover system needed to be identified. A boring plan had to be developed that accounted for the placement of muck and also tracked seismic activity.
"When you do a tunnel boring process, there is muck that has to come out and it can't be disruptive to trade shows," says Miller. "So there was a lot of prep work that had to be done before we even started digging tunnels."
The tunnel boring machine used for this project was unlike any predecessor. "The tunnel boring machine itself is unique in that it is a smaller machine used for transportation systems," says Miller. "We're not drilling tunnels for utility lines. We're not drilling tunnels for piping. Our tunnel boring machine has an outside diameter of 14 ft., which is pretty small. Most of us who have been in the tunnel boring process before were working with 55-ft.-diameter tunnel boring machines where we are putting several levels of elevated transportation systems through that tunnel."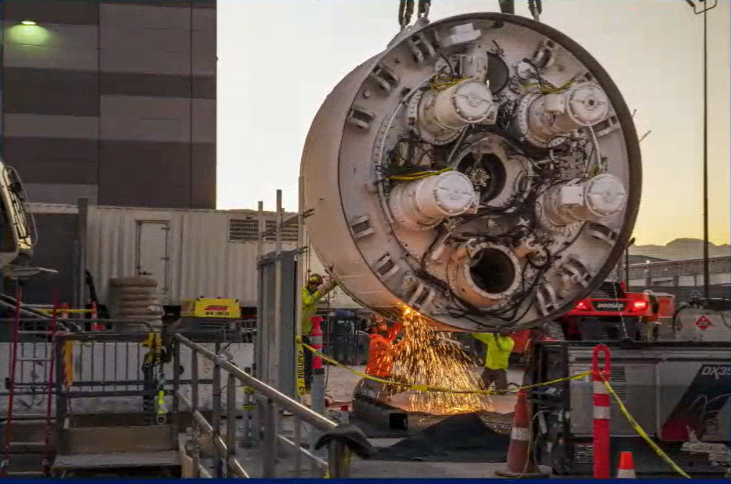 Elon Musk's tunnel boring machine is electric powered and has an outside diameter of 14 ft., which is pretty small.Las Vegas Convention Center and Visitors Authority
The  Boring Company developed a plan to create a smaller single lane tunnel and then build more than one tunnel to accommodate what is a loop system. "That placed the inside diameter of our tunnel at 12 ½ ft., which is the perfect size for a single lane of vehicles to run through," says Miller. "This tunnel boring machine was more nimble than some of the others that we have used in the larger projects. When you are putting a 55-ft.-tall boring machine through land area, it's very difficult to work your way around utilities, work your way around existing conditions, whether they be geological or structural. The 14-ft. diameter allowed us to pinpoint exactly where we were going. We were able to lace through some of the utility issues."
During the 2020 CONEXPO-CON/AGG Show last March, the tunneling process was taking place 40 ft. below the show, even though none of the attendees noticed. The tunnel boring was a continuous mining process. "The tunnel boring machine did not stop with the exception of changing out the tunnel boring head or teeth on occasions," says Miller. At the peak, the machine was completing about 140 ft. a day. "It doesn't sound like a lot, but it's significantly more than what you would typically do in a tunnel boring process."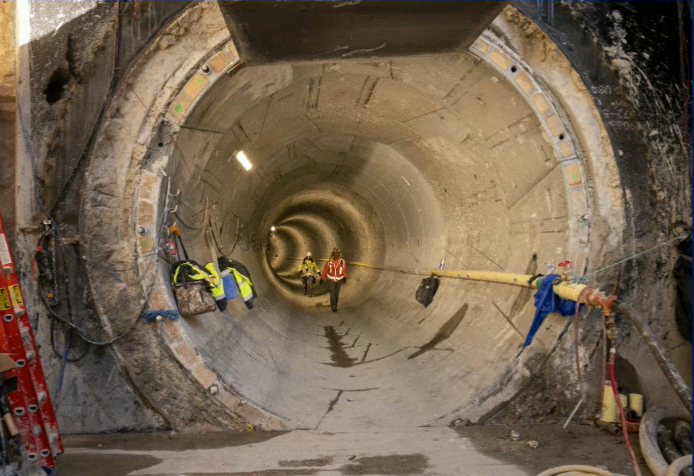 The inside diameter of the Las Vegas Convention Center Loop tunnel is 12 ½ ft., which is the perfect size for a single lane of vehicles to run through.Las Vegas Convention Center and Visitors Authority
There was GPS on the tunnel boring machine so it could be precisely tracked. "The continuous component of that tunnel boring process was unique," says Miller. Muck went out while precast was brought in. "We had a large belt that basically took the muck across the top of the tunnel and would dump it into bins that were on rails. It was a synchronized process by which the muck was removed and the precast was coming in at a continual cycle."
Electric-powered tools provided advantage
The Boring Company's tunnel boring machine is electric powered. "All of the locomotives that were bringing the muck out or bringing the precast in were electric driven," says Miller. "They had batteries. There were no gas-powered vehicles in the tunnel. The tunnel boring machine itself was operated with a 1-MW generator that was located on the site, not in the tunnel. So, from a safety standpoint, we didn't have anything in there that was detrimental to the air quality for the laborers."
The tunnel does not require the exhaust system that is typically used in a transportation tunnel because the vehicles are electric powered. "We still have exhaust requirements relative to ventilation, but nothing to the extent that we need to have when gas-powered vehicles are in the tunnel," says Miller.
As of this writing, the project is complete and has been tested. After a certificate of occupancy is issued, the people mover system can go into operation. This project may very well prove to be a template for future systems across the U.S.
"I think this will begin to change transportation systems in our major cities across the country," says Miller. "We are at a time where technology is becoming less expensive for the contractor. When technology began several decades ago to affect how we do grading or move earth from GPS coordinates, it was a little more costly. What's being demonstrated now is that the cost of the technology vs. the benefits are really starting to come together."