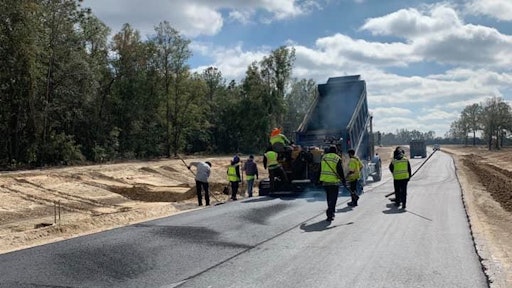 Lance Bower/Facebook
In a meeting with bipartisan members of the Environment and Public Works committee, President Joe Biden warned that China is aggressively outpacing the United States on infrastructure. The conversation highlighted the connection between a nation's infrastructure quality and its global economic competitiveness, and it came after Biden talked for two hours with Chinese President Xi Jinping.  
"You all know as well as I do that if we don't get moving, they are going to eat our lunch," Biden said. ""They're investing a lot of money, they're investing billions of dollars and dealing with a whole range of issues that relate to transportation, the environment and a whole range of other things."
Four senators attended the meeting: Sen. Tom Carper (D-DE), who chairs the Senate Environment and Public Works Committee; ranking member Sen. Shelley Moore Capito (R-WV); Sen. Ben Cardin (D-MD); and Sen. James Inhofe (R-OK). Vice President Harris was also in the room, and Transportation Secretary Pete Buttigieg attended virtually while in quarantine after a member of his security detail tested positive for the coronavirus.
China has been investing heavily in its infrastructure, pouring money into high-speed rail, metro systems, apartment buildings, electricity grids and mobile networks. On the other hand, the World Economic Forum's 2019 Global Competitiveness Report ranked the US 13th in a broad measure of infrastructure quality, down from fifth place in 2002.
"We just have to step up," Biden said. "How do we begin this? I laid out what I think we should be doing."
Biden's Infrastructure Plan
Throughout his four years in office, President Donald Trump and his Republican administration repeatedly highlighted so-called "infrastructure weeks" that ultimately resulted in few big projects moving down the line. Biden has indicated many times he is ready to move forward with infrastructure spending, an initiative that is thought to be largely bipartisan.
"I've been around long enough ... that it used to be that infrastructure wasn't a Democrat or a Republican issue. There are not many Republican or Democratic roads and bridges," Biden said.
During a press event following the conversation, Press Secretary Jen Psaki said that the amount of money Biden wanted to spend on infrastructure was  "a process of ongoing discussion" and there was yet no specific number.
Psaki said the group of lawmakers who met with the President "established the mutual understanding that America needs to build new infrastructure across urban and rural areas and create millions of good-paying jobs in the process of supporting the country's economic recovery in the months and years ahead."
Biden has said his Build Back Better Plan would generate economic recovery by creating millions of good paying jobs that put Americans to work building our roads, our bridges, our ports.
"The Build Back Better plan will make historic investments in infrastructure, manufacturing, innovation, research and development, and clean energy. Investments in a care-giving economy with skills and training needed by our workers to be able to compete and win in a global economy," Biden said. 
The plan calls for $2 trillion in spending over four years, more than the $1.7 trillion the campaign previously proposed to spend over a decade. 
Our hope is Biden can make infrastructure a reality instead of it continuing to be the best idea that never happens.