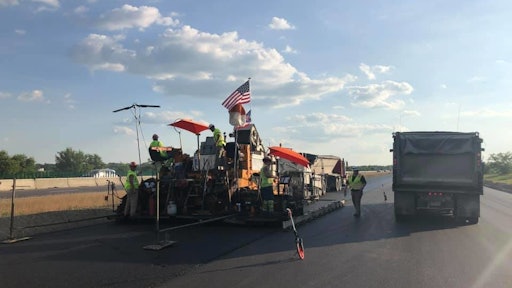 Zachary Walters/Facebook
Every year it feels like Winter gets longer and longer in the north as we anxiously await the start of another paving season. As the temperatures start to rise, we want to help you prepare for the busy construction season so you can get ahead of the work to come and make the most of these productive months. Here are some season start up tips to help:
1. Go On a Hiring Spree 
Before you know how much work your company can take on this season, you need to know you're going to have a reliable crew with you. The key to having the best possible crew is to hire early which will give your employees time to be trained and to acclimate to the company culture before you and your team get caught up in projects. 
2. Conduct Employee Training
Speaking of training, after hiring new team members and before your old team starts a new season, it's important to have scheduled training. Most employees want to do good work, excel in their job and grow in the company. They can't do any of that without proper training and guidance. If you haven't already, create an employee handbook. Go over safety precautions, guidelines you expect employees to follow and procedures in place for each project you work on. Have employees together for training sessions before putting them out on the jobsite this year. 
3. Ready Personal Protective Equipment
In addition to training, it's important that every member of the crew, including the new guy, knows how to operate safely within the job site. This includes providing them with the proper personal protective equipment (PPE) and letting them know about the proper attire for the jobsite. Long pants and sturdy work boots will protect your workers from the hot asphalt and other risks.
4. Maintain Old Machines
During the winter months, your company should be optimizing downtime by completing a myriad of preventative maintenance tasks. A winter repair regimen for asphalt companies consists of checking on those 'trouble spots' on your machines that have accumulated over the course of the paving season that you know need to be addressed while business is slower. Refer to your product manuals and equipment dealers for a list of maintenance needs. 
5. Purchase New Equipment 
If you know some of your old equipment won't make it through the year, consider buying new. Equipment in the asphalt industry has come a long way in a short time and your employees will get the most out of every job with the right tools complete them. 
6. Take a Look at Scheduled Work
Throughout the winter, you've likely lined up your projects to start when the weather breaks. This is when you'll want to reach out to those clients and get the details of each job ironed out. Also get in touch with your suppliers. Let them know your plans and needs so they aren't surprised (and you aren't disappointed) midway through the season.
7. Educate Yourself
A lot has changed during the off-season and it's your responsibility to know about how any new rules and regulations will impact your business. Attending industry events or webinars will help you stay up to date with these changes so you can relay the information to your employees.  
8. Boost Your Company's Online Presence
There's no denying that social media is a fundamental part of any marketing strategy. Consumers and local audiences are heavily engaged with brands and businesses via their webpages and social networks. Sites like Facebook, Twitter, Instagram, YouTube and Yelp continue to be the modern word-of-mouth that consumers rely on to recommend brands and businesses. Consider adding a social media platform to your business and let your employees know they should share photos of their good work with you to add to your profiles. 
9. Learn to Work Smart & Hard
If new equipment isn't in the budget this year, it's still important to find ways to cut costs. Staying on top of economic trends will help you with budget planning and management during leaner times. Invest in learning exactly where and how your money is being spent. Utilize budgeting and project management software to analyze expenditures, and keep track of tools, equipment and billable time.
10. Set Expectations & Celebrate Success
Finally, let your employees know what you expect this season. They can't meet (or surpass!) expectations if they don't know them. By letting employees know your expectations and the benefits to them of meeting those expectations throughout the year, you can develop a cohesive, team-oriented atmosphere that will help you get more work done quicker and at a higher quality—and your employees will be happier.
Good luck this season and keep us posted with photos of your hard work. E-mail me at jlombardo@acbusinessmedia.com.