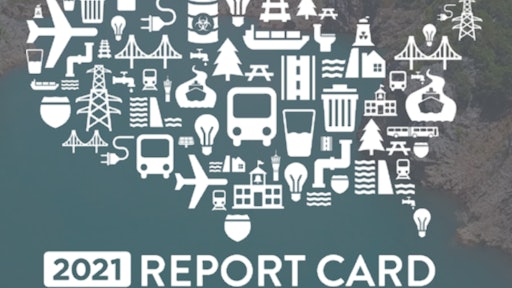 Since the American Society of Civil Engineers (ASCE) began issuing the Infrastructure Report Card in 1998, the grades have struggled to get out of the D's. The 2021 Report Card for America's Infrastructure reveals that the country has made some incremental progress toward restoring our nation's infrastructure. For the first time in 20 years, our infrastructure is out of the D range. The 2021 grade is a C-.
Of the 17 categories making up the overall grade, 11 were in the D range that indicated a "significant deterioration" with a "strong risk of failure." They included public transit, storm water infrastructure, airports and roads and highways, which make up the biggest chunk of U.S. infrastructure spending at $1.6 trillion, according to the group.
"America's infrastructure is not functioning as it should, and families are losing thousands of dollars a year in disposable income as a result of cities having to fix potholes, people getting stuck in traffic or due to repairs when a water line breaks or the energy grid goes down," said Greg DiLoreto, one of the group's past presidents. "It's critical we take action now," he said, expressing optimism that the federal government is now making it a "top priority."
In the report, the ASCE called for "big and bold" relief, estimating it would cost $5.9 trillion over the next decade to bring roads, bridges and airports to a safe and sustainable level. That's about $2.6 trillion more than what government and the private sector already spend.
President Joe Biden's administration and lawmakers in recent weeks have begun laying the groundwork for a long-sought boost to the nation's roads, bridges and other infrastructure of $2 trillion or more, to be unveiled after Congress approves legislation on COVID-19 relief. Transportation Secretary Pete Buttigieg, who has been meeting with lawmakers about the effort, has said the aim would be to rejuvenate the post-coronavirus pandemic economy and boost crumbling roads and bridges while encouraging alternative forms of transportation to cars, as well as create thousands of green jobs by making environmentally friendly retrofits and public works improvements.
"This report card is a warning and a call to action," Buttigieg told The Associated Press. "A generation of disinvestment is catching up to us, and we must choose whether to allow our global competitors to pull ahead permanently, or to invest in the safety, equity, resilience and economic strength that superior infrastructure can bring to Americans."
Roads Receive D Grade
America's roads are critical for moving an ever-increasing number of people and goods. However, these vital lifelines are frequently underfunded, and 43% of the system is now in poor or mediocre condition. As the backlog of rehabilitation needs grows, motorists are forced to pay over $1,000 every year in wasted time and fuel. Overall, our deteriorating roads are forcing the nation's motorists to spend nearly $130 billion each year in extra vehicle repairs and operating costs. Even more troubling is that the number of vehicle miles traveled on roads in "poor" condition has risen from 15% to more than 17% over the last decade.
The U.S. has been underfunding its roadway maintenance for years, which the ASCE says has resulted in a $786 billion backlog of road and bridge capital needs. The bulk of the backlog ($435 billion) is in repairing existing roads, while $125 billion is needed for bridge repair, $120 billion for targeted system expansion, and $105 billion for targeted system enhancement (which includes safety enhancements, operational improvements and environmental projects).
Federal investment in roads has historically been paid for from a dedicated, user fee-funded source, the Highway Trust Fund. Unfortunately, the Highway Trust Fund has been teetering on the precipice of insolvency for nearly 15 years due to the limitations of its primary funding source, the federal motor fuels tax.
The tax of 18.4 cents per gallon for gasoline and 24.4 cents for diesel has not been raised since 1993, and inflation has cut its purchasing power by 40%. Additionally, new vehicle fuel economy for passenger vehicles has increased by 11 miles per gallon between 1993 and 2017, further reducing revenue. The Congressional Budget Office estimates that by 2022 the Highway Trust Fund is projected to have a $15 billion deficit as current spending levels exceed revenues from user fees that supply the fund.
To raise the grade for roads, the ASCE offers these five tips:
Focus resources on preserving a state of good repair, as the nation will never be able to fully build its way out of congestion. Policies and efforts focused on improving travel time reliability will need to be implemented to maximize the capacity of the existing road network. This should be done in coordination with the acceleration of the development and deployment of new technologies that promote an integrated, multimodal transportation system.
Increase funding from all levels of government and the private sector to address the condition and operations of the roadway system to maintain a state of good repair and ensure safety for all users.
Fix the federal Highway Trust Fund by raising the federal motor fuels tax by five cents each year over five years. To ensure long-term, sustainable funding for the federal surface transportation program, the current user fee of 18.4 cents per gallon on gasoline and 24.4 cents per gallon on diesel should be tied to inflation to restore its purchasing power, fill the funding deficit, and ensure reliable funding for the future.
Develop state and local level comprehensive transportation asset management plans that link asset management efforts to long-term transportation planning and incorporate the use of life-cycle cost analysis.
Create dedicated federal investments to build resilience into the nation's road and bridge infrastructure and integrate resilience planning into State Transportation Asset Management Plans. 
View the full 2021 Report Card here.