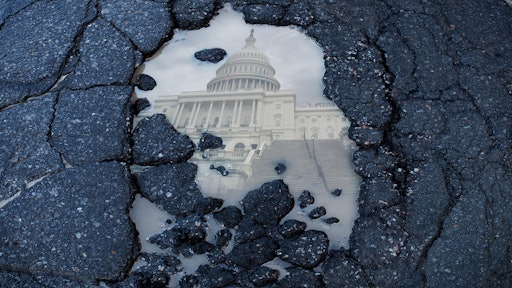 Adobe Stock/freshidea
Infrastructure funding seems to be a hot topic in the news the last few weeks and for that we are glad as our nation is facing a growing backlog of maintenance projects on our roads and bridges. Despite what has been touted as a bipartisan issue, Congress continues to argue over other priorities instead of focusing on infrastructure. 
Republicans in Congress have warned that the tense negotiations over the $1.9 trillion coronavirus relief package may pose challenges for future negotiations on infrastructure but Biden continues to press the issue.
"We are so far behind the curve," Biden told pool reporters Wednesday. "We rank like 38th in the world in terms of infrastructure, everything from canals to highways to airports."
Biden promised during his campaign that he would spearhead a "historic investment in infrastructure" to repair roads, build out half a million electric vehicle charging stations, update the U.S. power grid with renewable energy sources and more. Revamping the nation's infrastructure with significant federal investment is expected to be Biden's second big policy push after Congress tackles the COVID relief proposal. The president also met with members of Congress in person and Transportation Secretary Pete Buttigieg virtually last week to discuss the nationwide need. 
Industry Grows Impatient 
Still, the industry grows impatient waiting for action as the conditions of our infrastructure continue to worsen. This week, a coalition of more than 300 groups sent a letter to lawmakers urging Congress to finally follow through on perennial calls to upgrade the nation's crumbling roads and bridges and expand broadband access, and to do it in an environmentally sustainable and "bipartisan" way.
"It seems each Congress and every new Administration includes infrastructure as a top priority," the letter says. "Despite broad support from diverse coalitions, however, too often they fail to act. Our nation must launch a massive investment program in transportation, energy, water and communications technologies."
As part of the "Build by the Fourth of July" Campaign, the letter reminds congressional leaders that investing in infrastructure will repair our crumbling roads, bridges and transit and the current gridlock in our major economic hubs that harm our productivity, global competitiveness and quality of life. Infrastructure investment will also "propel public and private efforts to decarbonize our economy in a meaningful way, address infrastructure challenges with both manmade and natural solutions, and close the digital divide by expanding broadband and internet access. This effort also provides an opportunity to ensure the benefits and jobs from infrastructure investments are shared with communities that have borne disproportionate burdens."
Ed Mortimer, the Chamber's vice president of transportation and infrastructure, said at a panel discussion hosted by United for Infrastructure that as a nation "We've been talking about it for too long." 
Mortimer added that the Chamber is committed to "hold their feet to the fire" in order to get a bill done, though he lamented that lawmakers "get hung up on the details" of paying for infrastructure investments.
The organizations closed the letter by calling on all members of the 117th Congress to help enact a fiscally and environmentally responsible infrastructure package that stimulates the economy by July 4, 2021.