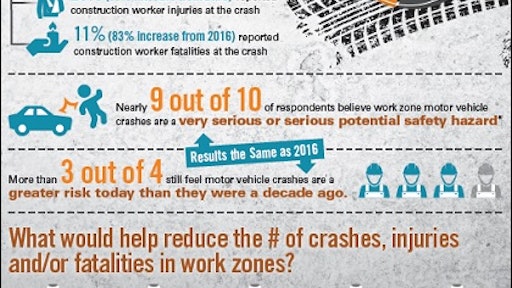 In a new report that starkly highlights the risk to workers as well as motorists in highway work zones, 44% of roadway contractors said vehicles had crashed into their construction sites in the past year, for a 13% jump from 2016 and including spikes in construction worker deaths and injuries.
The Associated General Contractors of America, which surveyed more than 700 contractors nationwide during March and April, said it has launched a new public advertising and information campaign in the wake of its findings.
"There is no meeting, email or text that is more important than the safety of workers or motorists," said Stephen Sandherr, the association's CEO. "It is absolutely essential for every driver to slow down, pay attention and put the phone down while driving through highway work zones."
The campaign also comes as the American Road & Transportation Builders Association Transportation Development Foundation announced its annual scholarship support of children of highway workers who have been killed on the job, employees who worked for state or county departments of transportation or for project contractors.
Sandherr said the AGC survey results also showed of the contractors reporting work zone crashes, 49 percent said that motor vehicle operators or passengers were injured and 13 percent of those crashes involved a driver or passenger fatality.
Highway work zone crashes also pose a significant risk for construction workers. Sandherr said 25 percent of work zone crashes injure construction workers and 11 percent of those crashes kill workers.
The association said that 82 percent of surveyed contractors reported that vehicle crashes pose a greater risk now than they did just 10 years ago.
Read more from AASHTO.