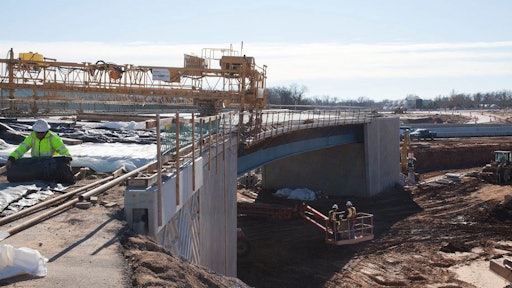 ODOT
The Legislature's decision to divert about $150 million in Oklahoma Department of Transportation funding to help close a hole in next year's budget is expected to lead to delays in starting some projects in its eight-year construction plan , the agency's director said Monday.
But Director Mike Patterson told members of the Transportation Commission that ongoing construction projects will not have to be suspended, as was initially feared when lawmakers were discussing the possibility last month of decreasing funding by more than $250 million.
"That impact would have stopped or suspended construction activity on several ongoing projects," Patterson said. "Fortunately, we don't find ourselves in that position."
The eight-year plan, which is updated annually, includes road and bridge projects from each of Oklahoma's eight transportation districts that are selected by ODOT field engineers and approved by members of the commission.
Facing a shortfall of $878 million in the budget for the fiscal year that begins July 1, lawmakers tapped $100 million from the agency's construction program funds and another $53 million from a maintenance and operations fund. They also raided $3 million from a weigh station revolving account.
Separately, lawmakers took $50 million from a county road and bridge improvement fund administered by the agency.
Read more.
![
Broadway Extension/I-235 & I-44 Interchange from ODOT on Vimeo.
]