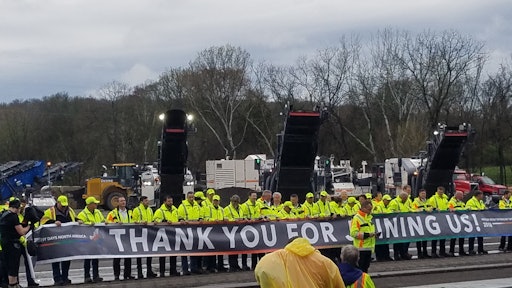 Originally opened in 2009, Wirtgen's expanded Center for Training & Technology (CTT) was host to over 1,200 dealers and customers from across North America for their Technology Days event at their headquarters in Nashville, TN. The event was intended to showcase innovative construction methods and applications with two live demonstrations at their onsite proving grounds and with micro education sessions held throughout the event. 
Jim McEvoy, president and CEO of Wirtgen America, Inc., and Domenic Ruccolo, CEO of Wirtgen Group, held a ribbon cutting ceremony to open the event and showcase the facility which has approximately doubled in size since 2009 to 38,000 square feet. The proving grounds at the site cover more than 300,000 square feet.
McEvoy says that Wirtgen has been a platform of technology and innovation in the marketplace and the CTT is a way for them to support those goals. 
"Simply put, if you're going to be that guy, you have to back it up with training and you have to back it up with competency so that people understand how to use the technology correctly," he says. "If you're putting that much capital into a large asset, you need to know how to operate it properly."
To help facilitate those goals, the expanded training center now includes nine classrooms, two lecture halls, five technology rooms (including one for each brand), state-of-the-art technology and interactive displays showing the company's latest innovations.
Last year alone, the CTT saw over 3,000 people through their doors but they are hoping for more people in 2018. As the expanded facility and the need for skilled labor in the marketplace soars, the CTT could see over 5,000 people in 2018.
"(The CTT) represents a commitment," McEvoy says. "As a manufacturer to the industry, we have a unique position because of the product offering within our niche, which is guardrail to guardrail and 20 inches down. We can explain – really start to finish –  production of rock to production of asphalt, laying of asphalt, compaction of asphalt, ultimately to the recycling of that asphalt."
Ruccolo adds that not all training is delivered through the CTT. "There is a lot of training, particularly basic levels, that is delivered remotely online to give people a foundation," he says. "A lot of the training organization here also travels out to customers and dealers and so on."
Live Demonstrations Offer Opportunities
During the event, Wirtgen also showcased impressive live demonstrations with 31 machines across the company's four brands – Wirtgen, Vögele, Hamm and Kleemann.
The demonstrations started with soil stabilization to build a solid foundation for paving asphalt and concrete with the SW 16 TC Binding Agent Spreader. The binding agent spreader has a 16 m³ container volume for accurate and high-performance spreading of binding agents in cold recycling and soil stabilization operations.
The spreading was followed by a WR 200 XLi Cold Recycler & Soil Stabilizer. The machine is equipped with a cutting-edge injection systems that mills and granulates asphalt pavements, injecting binding agents and water in precisely metered quantities and mixes it all in a single in-place operation.
Material was then finished with Hamm Compaction equipment, H20i CP and H13 VIO.
The Kleeman material processing equipment was shown next along with equipment in which rocks can be crushed on site to save on transportation costs. 
Next, was the fun stuff. Equipment that showed how all Wirtgen equipment works to construct a new road. 
Vögele showcased the MT 3000-2i Material Transfer Vehicle that achieves active remixing by two 16-in. diameter conical augers in the receiving hopper. The MTV fed a Super 2003-3i Asphalt Paver which is a 10-ft. wheeled Highway Class paver that can be used in a large range of applications due to it's ability to pave widths up to 25 ft. 6 in.
The material was then compacted using a range of Hamm products: HD 12 VO, HD+90i PH VO-S and DV+90i VV-S.
Afternoon demonstrations showcased another fleet of machines that presented a modern, efficient and streamlined process of road rehabilitation. 
To watch video of the event, be sure to head to our Facebook page: https://www.facebook.com/Asphalt.Contractor/