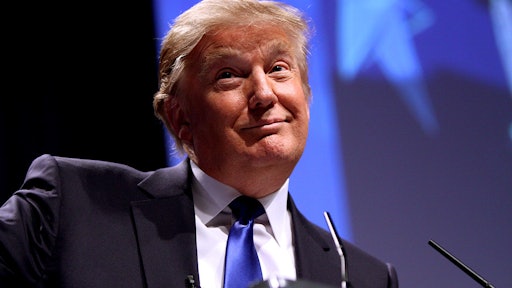 President Donald Trump on Thursday threatened to kill any infrastructure legislation lawmakers might pass next year unless Democrats give him billions for his proposed southern border wall.
Notably, Trump did not threaten to veto a stopgap spending measure headed to his desk later Thursday that was made necessary by his demand for $5 billion for the barrier project this fiscal year. Lawmakers could not find a way to meet that demand — or part of it — ahead of a Friday night deadline, so they decided to put off the border wall fight until February.
But he did make clear he will continue to push for the wall funding when the next Congress convenes after a holiday break that will start for lawmakers Thursday and him on Friday.
Infrastructure is one of the few issues that has broad bipartisan support on Capitol Hill, and Trump made upgrading the country's roads, airports, bridges, tunnels and seaports a top 2016 campaign promise. Analysts and lawmakers often question why he and his team did not try to pass an infrastructure package in early 2017 to establish a solid working relationship with Congress - especially Democrats.
His Twitter threat came a day after the Senate sent the House a criminal justice overhaul package that some of his allies said Wednesday suggested next year might provide some actual bipartisan legislation. (The House is expected to easily pass it later Thursday and send it to Trump's desk for his signature.)