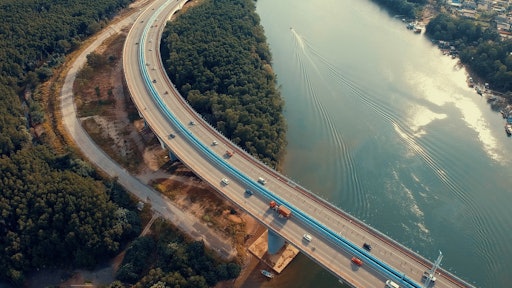 PEXELS/POK RIE
Senate Budget Committee Chairman Mike Enzi (R-Wyo.) March 22 released a five-year budget proposal that would allow Congress to enact nearly $90 billion in new highway user taxes to keep the Highway Trust Fund (HTF) solvent through 2024.
The statement accompanying his FY 2020 budget proposal includes this paragraph: 
The resolution calls for $176 billion in increased revenue over the next five years. The resolution assumes about half of these receipts could be received as part of an effort to make the Highway Trust Fund solvent, though policy decisions would be left up to the Finance Committee. This assumption is based on an overarching user-pay principle to prevent the need for additional general fund transfers into the Fund. The resolution further assumes the remaining revenue changes could be generated by increasing federal employee retirement contributions and increases in receipts stemming from changes to other mandatory and regulatory programs. 
Congressional budgets are used to set spending levels and other fiscal priorities for the coming year. While budget agreements between the House and the Senate once happened annually, regardless of partisan control, such deals happen less frequently with divided government. If a formal budget is not adopted, each chamber generally maintains the budget they passed as the guideline for tax and spending decisions in the coming year.
Consideration of the budget in committee is slated to begin by March 27. Movement of the budget beyond the committee level is uncertain: Democrat and Republican leaders in both chambers have cast doubt on the chances of reaching an agreement on anything that is not considered must-pass legislation. However, this recognition of the need to address the HTF via user fees to adequately solve this revenue problem is the most significant legislative signal by Senate Republicans in years.
The HTF is likely to run out of money in 2021 without additional revenues. Keeping core federal highway and transit programs funded at levels sustained only by federal fuel and truck taxes at current rates, which haven't been increased since 1993, would result in a 40 percent cut to program activity. The HTF is currently bolstered by $70 billion in non-fuel tax revenues provided through the 2015 FAST Act, which expires next year.