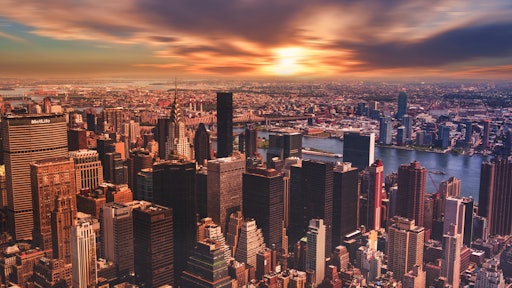 Quintin Gellar/Pexels
For the sixth year in a row, the National League of Cities' publishes an annual State of the Cities report. This insight provides an in-depth analysis of of 153 speeches delivered between January and April 2019 is based on parts of mayors' speeches that articulate specific plans,goals and impacts related to projects, programs and city departments. 
Infrastructure was the second most-covered topic again this year. In fact, 57% of state of the city speeches included significant coverage of infrastructure issues. Like last year, nearly 60 percent of mayors discussed infrastructure issues at length, up from 48 percent in 2017 and 31 percent in 2016. Also similar to last year, roads, streets and signs, as well as water, sewer and waste were the most talked about infrastructure sub-topics. Similar to last year, across regions and population categories, roads, streets and signs held steady as a top five subtopic.
These fundamental programs come with a price, and mayors are keenly aware of their fiscal limitations. Concerns about infrastructure funding rose in importance this year, with approximately 33 percent of mayors discussing the need to work with federal partners to re-build and reimagine our nation's streets, bridges and tunnels (about a 10 percent increase from both 2018 and 2017). Mayors in the Midwest and South, as well as those in cities with fewer than 50,000 residents prioritized infrastructure funding, in particular. The State of the Cities report is increasingly seeing more cities looking to state and federal partners for aid, and while mayors are hopeful, they admit it has been a long and difficult road.
Mayors shared technology-driven solutions for calming traffic and bolstering pedestrian infrastructure so that residents will have better access to amenities and enjoy improved safety among drivers and walkers.
ROADS, STREETS AND SIGNS
This year, mayors shared new strategies to keep residents moving safely and efficiently in their cities. Strategies like traffic calming,or the slowing of traffic by building speed bumps or other obstructions, as well as flow improvements stood out.
In Kettering, OH, Mayor Don Patterson supported a project to analyze traffic patterns in preparation for significant improvements to a county road. And in Clarksville, TN, new Mayor Joe Pitts has been working with the street department to design a major intersection improvement that will tackle severe traffic backups by widening roads and improving traffic signals and sidewalks.
PEDESTRIAN INFRASTRUCTURE
Cities are improving their pedestrian bridges, walkways and boardwalks for accessibility and safety. In Everett, WA, Mayor Cassie Franklin is beginning a project to transform the city's downtown into a pedestrian-friendly corridor with shelters and benches. Additionally, the city is expected to open a new pedestrian bridge that will not only carry stormwater off the bluff, but "will give us a new way to access our incredible waterfront," said the mayor.
Many cities are focused on using technology to create safer streets for all users. Mayor Lily Mei from Fremont, CA wil lbe installing more traffic safety devices and enhancing crosswalks to help pedestrians cross busy streets. Similarly, the city of Grand Rapids, MI has focused on safety as it sets new pedestrian crosswalk standards as part of an effort to lower the city's high-er-than-state-average rate of pedestrian-involved crashes with motor vehicles.