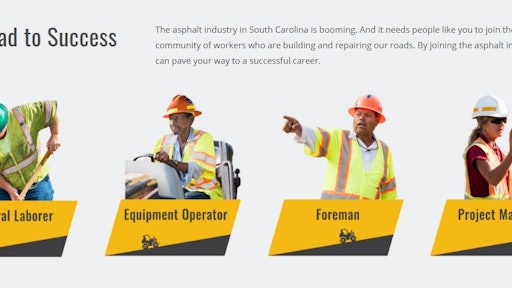 In response to an increased need for asphalt workers across the state, the non-profit South Carolina Asphalt Pavement Association (SCAPA) and its members have launched Asphalt Works!, a statewide workforce development campaign that aims to spread the message about opportunities for advancement within the asphalt industry — and repair the state's roads. View the campaign website and connect with available jobs at https://www.asphaltworkssc.org.
"Family is at the heart of the asphalt industry," Ashley R. Batson, Esq., SCAPA's executive director and campaign founder says. "Our campaign aims to educate and inspire our workforce. We want workers to know that when you commit to asphalt, asphalt commits to you."
To date, more than 350 available jobs exist within South Carolina's asphalt industry. As the demand for asphalt workers increases — due in part to the May 2017 approval of the South Carolina Roads Bill, implemented to pay for road improvements over six years — the asphalt paving industry anticipates that over 1,000 jobs will be created over the next five years.
There are multiple paths for advancement into management roles as well as high-paying jobs operating sophisticated heavy machinery and with a wealth of career opportunities, filling each job opening will be a measure of success for SCAPA's initiative. 
"Strengthening the road network within our state takes integrity and skill, and it is essential to our businesses here in South Carolina," Governor Henry McMaster says. "Strong infrastructure is crucial to economic growth, and I am proud to support this innovative workforce development campaign."
South Carolina House Speaker Jay Lucas agrees. "I commend this workforce development campaign for spreading the message about these great opportunities and reenergizing an industry that is crucial to our economy as a whole."
The Asphalt Works! campaign acts as a "road map," guiding future asphalt employees on an educational and inspiring journey towards a fulfilling career in asphalt by way of TV, radio and social media advertisements, billboards, print materials and a standalone website rich with success stories. The campaign aims to benefit both the industry workforce and South Carolina residents.