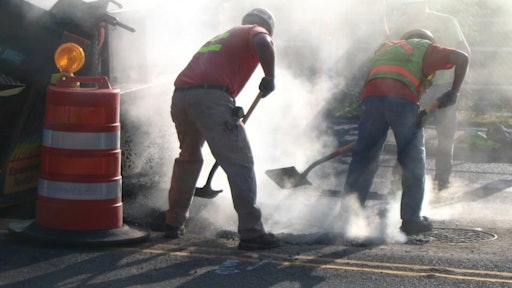 Transportation contractors were busy this summer, with the value of work up across all modes in June, July and August compared to the same three-month period in 2018.
Contractors performed a record $45.6 billion in transportation and transportation-related construction work, up 12 percent compared to the $40.8 billion put in place June through August 2018, according to the latest data from the U.S. Census Bureau.
"Highway and street pavement work has shown continued strength, with $21.7 billion in work between June and August 2019, compared to $19.6 billion in market activity through the same time period in 2018," said ARTBA Chief Economist, Dr. Alison Black. "Work is also up for bridge, airport, transit, rail and port/waterway construction."
All that work this summer led to the construction unemployment rate standing at 3.2% in September, down 0.9 percentage points from the same time last year. Unemployment across all industries was 3.5% in September, 0.2 percentage points lower than the previous month. This was the lowest recorded rate since December 1969.
"In many ways, this is another perfect employment data release," said ABC Chief Economist Anirban Basu. "While some economists will point out that the 136,000 net new jobs fell short of expectations, data characterizing labor market performance were revised upward for a net gain of 45,000 jobs in July and August. In addition, September's 3.5% unemployment rate is a 50-year low. A bit less attention will be paid to the fact that year-over-year wage growth came in at 2.9%, the lowest increase since July 2018. In total, today's data release suggests that the current U.S. economic expansion will persist for the foreseeable future, as ongoing job growth propels consumer spending and as surprisingly modest inflationary pressures keep interest rate increases at bay.
"Nonresidential construction employment continued to expand in September, a reflection of a segment that remains flush with work," said Basu. "The ongoing declines in various measures of unemployment are consistent with the notion that the average contractor, including subcontractors, will continue to face enormous difficulty recruiting new employees. Many contractors continue to pay for substantial overtime, translating into flat profit margins or worse in the context of still plentiful bidding opportunities."