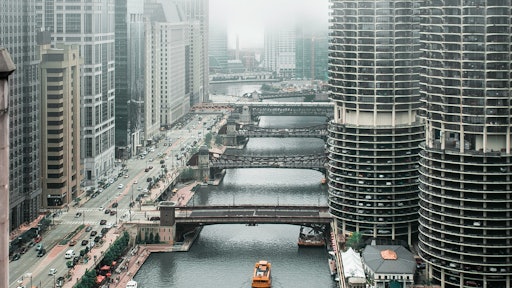 Alex Powell/Pexels
In a letter to President Trump, the U.S. Chamber of Commerce suggested guidance for keeping construction-related activities and several other essential services open and moving despite the pandemic.
"As our nation continues to labor in halting the spread of the coronavirus, states and local governments are promulgating quarantine orders and mandatory business closures," the letter states. "These are important public health measures that will help limit the spread of the virus. However, it is important that these orders do not inadvertently harm businesses and services that support the essential infrastructure needed to successfully combat this pandemic." 
In the letter, the Chamber recommends that the Trump Administration issue guidance on these orders to clarify "essential infrastructure" and "essential businesses and services."
The letter states:
"Several counties have promulgated mandatory quarantines that include specific exceptions for "essential infrastructure" and "essential business" that our members find strike the right balance and we recommend these examples as a model for any state or local government issuing similar directives. For example, the federal government should recommend exemptions for "essential infrastructure" that that allows individuals to leave their residence to provide any services or perform any work necessary to the operations and maintenance of "essential infrastructure," including, but not limited to, public works construction, construction of housing (in particular affordable housing or housing for individuals experiencing homelessness), airport operations, water, sewer, gas, electrical, nuclear, oil refining and other critical energy services, roads and highways, public transportation, solid waste collection and removal, internet, and telecommunications systems (including the provision of essential global, national, and local infrastructure for computing services, business infrastructure, communications, and web-based services), provided that they carry out those services or that work in compliance with social distancing requirements."
The letter went on to list several other essential businesses and services that should remain open including businesses that provide food, shelter, and social services and other necessities of life for economically disadvantaged or otherwise needy individuals; Newspapers, television, radio and other media services; Gas stations and auto-supply, auto-repair and related facilities, and many more. 
Precautions Necessary
As essential infrastructure activities continue, many states and local governments are taking wide-ranging safety precautions on job sites to limit the potential spread of the new coronavirus, and to try to avoid the fate of Boston, which on Monday became the first U.S. city to shut down construction entirely. 
In Chicago, contractors are using noncontact, digital laser thermometers to check workers' temperatures as they arrive on-site. And the Chicagoland Associated General Contractors says least one firm is considering investing $10,000 to $20,000 for an infrared camera that could monitor the temperatures of 40 to 50 workers at a time
Experts worry that a prolonged a construction shutdown could be a body blow to the local economies, amid fears of a broader, long-term recession nationally.