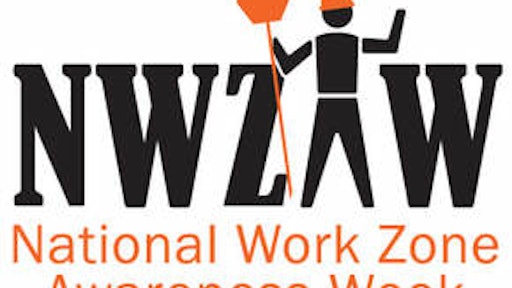 National Work Zone Awareness Week (NWZAW), which is celebrating 20 years of saving lives, is taking place from April 20 to 24. This year's theme is "Safe Work Zones for All: Protect workers. Protect road users."
The annual spring campaign is held each year at the start of construction season to highlight the deadly risks of inattention and encourage safe driving through highway work zones. According to the Center for Construction Research and Training (CPWR), struck-by incidents are a leading cause of death among construction workers, and since 1992, the leading cause of nonfatal injuries in the construction industry. To highlight this, on April 20th, the CPWR held its first National Stand-Down to Prevent Struck-by Incidents. Resources to conduct your own stand down can be found at CPWR.com/research/work-zone-safety.
The officially week kicks off on April 20 with Work Zone Safety Training Day, which emphasizes the importance of laying the groundwork for safety through training of personnel. Companies are encouraged to pause during the workday for safety demonstrations, discussions about safety policies and other prevention steps.
While Michigan officials canceled the April 21 kickoff event due to the coronavirus (COVID-19) pandemic, each state and locality is strongly encouraged to take part in the campaign by using social media to remind the public to drive carefully in and around work zones.
On Wednesday, April 22, you're encouraged to wear orange to provide a visible reminder and show support for families who have lost loved ones in work zone crashes.
Additional resources can be found at http://www.nwzaw.org/.