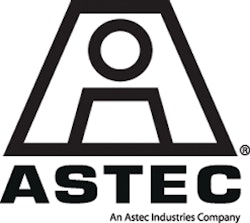 Astec announces that its United Arab Emirates dealer, House of Equipment, has been awarded a 2013 Gaia Award during the Dubai Big 5 International Building and Construction Show for the Astec Double Barrel Green System which produces warm mix asphalt.
The Gaia Awards honor companies in the construction sector whose products and services demonstrate a reduction of construction's impact on the environment. The Gaia Awards aim to promote a company's responsibility to the environment by recognizing achievements and providing a platform to highlight  'green' products and showcase future developments.
House of Equipment (HOE) is a rapidly growing company specialized in managing, trading, servicing and rental of construction equipment. An exclusive dealer of ASTEC equipment, HOE has established an operational base in Dubai with branches in Abu Dhabi and Overseas to service the entire Middle East.
For more information about House of Equipment LLC, visit www.hoeuae.ae