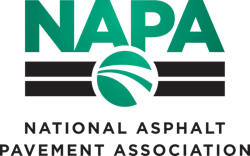 The National Asphalt Pavement Association (NAPA) announced today the first-ever recipients of its Asphalt Ambassador Commendation. The honorees were recognized on Wednesday, Feb. 5, during the association's 59th Annual Meeting in Boca Raton, Fla. The Asphalt Ambassador Commendation recognizes individuals who show leadership and excellence in grassroots activities to strengthen the asphalt pavement industry. The aim is to grow grassroots participation in order to further amplify asphalt pavement messages with legislators. "Earning the Asphalt Ambassador Commendation recognizes industry leaders who have build cooperative, lasting relationships with local, state, and federal lawmakers in an effort to educate governments on the asphalt industry," stated John J. Keating, 2013 Chairman of the NAPA Board of Directors.
The 2013 recipients, in alphabetical order, are:
Donald L. Daley Jr., California Commercial Asphalt LLC
David A. Donaldson, Vulcan Materials Co.
William C. Ensor III, Maryland Paving Inc.
John Hay, Oldcastle Materials Inc.
Kevin Kelly, Walsh & Kelly Inc.
Larry H. Lemon, Life Member
Patrick Nelson, Lehman-Roberts Co.
Mark L. Snyder, Pennsy Supply, an Oldcastle Materials Co.
Russell Snyder, California Asphalt Pavement Association
Clifford Ursich, Flexible Pavements of Ohio
J. Don Weathers, Louisiana Asphalt Pavement Association
Brian Wood, The Plantmix Asphalt Industry of Kentucky
Christian Zimmermann, Pike Industries Inc., an Oldcastle Materials Co.
"Asphalt Ambassadors are the embodiment of a grassroots advocate for the industry. They organize meetings and plant/project tours; send correspondence; participate in events in Washington, D.C., and beyond; and support NAPA's grassroots program. Without their involvement, the asphalt industry would not be positioned as well as it is today," Keating stated.
Companies in this article