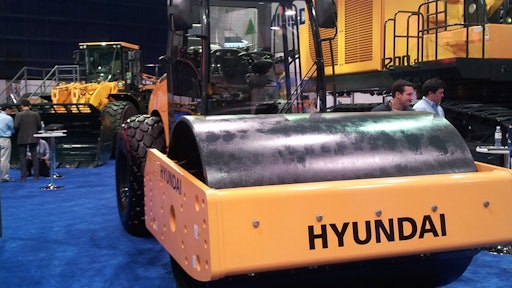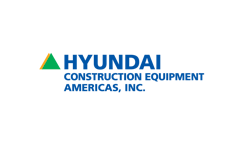 The new HR120C-9 roller was displayed at ConExpo and is suitable for soil and aggregate compaction in applications such as residential and commercial site prep and road construction. 
The 26,455 pound roller has a drum width of 6'10", a drum diameter of 4'11" and a drum thickness of 1.18 in. Front and rear scrapers are provided to remove material such as humid or cohesive soils when compacted. As an optional accessory, a pad foot segment kit can be attached to the smooth drum and the drum unit itself can be easily dismantled without lifting gear. 
Hyundai's HR120C-9 roller is built with reliable components including a 130 hp Duetz TCD 2012 L4 turbo, water cooled diesel engine for maximum power and performance. 
The machine features HA control which allows the traction drive to be automatically adjusted to different types of soil with no intervention from the driver. This feature ensure maximum traction at the axle an drum at all times. An optional innovative ECO speed feature allows for optimized hydraulic flow and gives operators the option of reducing the motor rotation while still using the machine at peak capacity leading to additional power, less fuel consumption and reduced sound level in the cabin. 
Hyundai;s HR120C-9 roller is equipped with robust, low maintenance, articulated pendulum joints. This allows the front and rear end to run on a single track and create a very low center of gravity. With an angle of 35 degrees and a pivoting angle of 12 degrees, exceptional maneuverability is ensured with the HR120C-9. A permanent differential lock is standard on the model , which offers optimal traction. The differential lock unlatches automatically whenever different wheel speeds are reached. 
Features a two stage vibration system with high compaction capacity. Two frequencies and amplitudes are provided for surface and deep compaction jobs and a high centrifugal force of up to 240kN ensures rapid compaction on a variety of soil types.