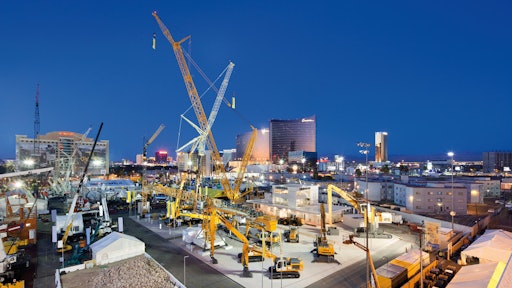 Liebherr is using its extensive 50,000-sq.-ft. booth (Gold Lot 2155) to display more than 20 pieces of equipment for multiple industries and job applications. The booth provides room for three hydraulic excavators, three wheel loaders, three crawler loaders and tractors, a deep foundation machine, two material handlers, two tower cranes, six mobile and crawler cranes, as well as a concrete pump. Plus, for the first time, the company is displaying various components from the mechanical, hydraulic and electric drive systems competency areas at CONEXPO.
Following is a glimpse of some of the key models on display:
R 956 Crawler Excavator: The new R 956 standard hydraulic excavator weighs approximately 122,100 lbs. and replaces the previous R 954 model. It is equipped with a Liebherr six-cylinder diesel engine with common rail fuel injection, an external exhaust gas recirculation system and a diesel particulate filter with active regeneration to comply with Tier 4 Interim emissions standards.
The steelwork for the unit's uppercarriage has been optimized for extended service life. A variety of undercarriages are available to suit the application.
PR 736 Dozer: With a service weight of 44,000 to 55,115 lbs., the PR 736 dozer is the first model in the new Generation 6 series. Among the innovations on the Generation 6 models are electronic travel speed regulation with an integral eco-function, and pro-active power control. To simplify the use of automatic machine control systems, Liebherr can supply its crawler tractors and loaders with factory preparation kits for leading manufacturer control systems.
The modern design of the new crawler tractors provides the operator with a good all-round view of the terrain and the machine's working attachments. The operator cab is a completely new design with ergonomically located controls. The seat can be optimally positioned to suit the operator's preferences.
LH 40 M and LH 60 C Material Handlers: The LH 40 M mobile industrial handler and LH 60 C tracked industrial handler are part of Liebherr's new series of material-handling machines. The Tier 4i-compliant machines are both equipped with the Liebherr Energy Recovery System (ERC) as standard. The additional hydraulic cylinder helps to increase the handling capacity while reducing fuel consumption. The Liebherr Power Efficiency system (LPE) optimizes the interaction between the drive components and therefore increases the efficiency and optimizes the engine's power output. 
LB 44-510 Rotary Drilling Rig: The LB 44-510 rotary drilling rig has a weight of approximately 381,000 lbs. and offers 376,000 lbf.-ft. of torque. The hydraulic drive manufactured by Liebherr offers automated torque adjustment, continuous speed optimization and four electronically adjustable speed ranges.
In Kelly drilling operation, the LB 44-510 has been designed for drilling diameters of up to 10 ft. and drilling depths of maximum 302 ft. The drilling rig is driven by a Tier 4i-certified V8 diesel engine offering 677 hp.
If required, the LB 44-510 can be disassembled into single parts weighing a maximum of 90,000 lbs. for easy transport. The leader can be folded back for transportation, with all hydraulic hoses connected and ropes reeved, meaning no disassembly is required when moving the equipment between jobsites.
THS 110 D-K Crawler Concrete Pump: The THS 110 D-K crawler concrete pump provides a maximum concrete output of 133 cu. yds. per hour and is equipped with a six-cylinder engine. The pump is particularly suited for applications in which concrete pumping is constantly being relocated around the building site. Maneuvering and operation of the crawler track-mounted pump is via remote control.
LTM 1300-6.2 All-terrain Crane: The 360-ton LTM 1300-6.2 all-terrain crane, the successor to the LTM 1250-6.1, has a telescopic boom that has been extended by 20 ft. to 256 ft. Its load capacity has also been increased. It is designed as a simple folding jib crane, yet is said to be the smallest luffing jib crane on the market, providing a low cost entry point into the luffing jib crane class.
A completely new concept for the superstructure drive unit uses a single engine with a mechanical shaft, ensuring high efficiency and low fuel consumption.
380 EC-B Flat-top Crane: The 380 EC-B 16 Litronic provides a maximum radius of 246 ft. and can lift up to 7.496 lbs. at the end of the jib. One characteristic feature of its crane superstructure is the four-chord counter-jib. The compact superstructure has a maximum radius of 246 ft. and can be loaded onto only five trucks.
542 HC-L Luffing Jib Crane: The 542 HC-L 18/36 Litronic luffing jib crane has a maximum load capacity of 79,366 lbs. The luffing gear has been optimized dependent on lifting capacity so that shorter adjusting times are possible.
The entry-level crane has infinitely adjustable FC drive units. It includes a 110-kW FC hoist unit, a 110-kW FC luffing gear unit with secondary brake, as well as two 11 kW FC slewing gear units as standard equipment.
Premiere of Liebherr Components
Liebherr is also presenting various components in a special pavilion within its booth. The exhibits from the mechanical, hydraulic and electric drive systems areas have been developed and manufactured at Liebherr's various competence centers.
The display includes the latest generation of Liebherr diesel engines. The engine on display complies with EPA Tier 4 Final exhaust emission limits that come into effect in 2014. Selective Catalytic Reduction (SCR) used exclusively on these engines makes particulate filters unnecessary. The hydraulic driveline consists of splitter box and several hydraulic pumps, and is mounted to the V8 engine on display.
The new common-rail fuel injection system is equipped with the company's own engine control unit. These systems are standard equipment on Liebherr V4 to V12 engines and can be adapted for use on other manufacturers' diesel engines.
International Tour: 3 Whirlwind Days of Jobsites, Tier 4 Final, Remanufacturing and More