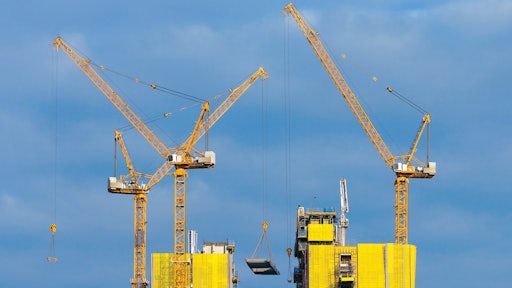 As with CONEXPO's past, Liebherr arrived at this year's show with an arsenal of new machines – more than 20 in total – and equipment simulators for multiple industries and job applications. The new iron represented five of the 11 market divisions the company maintains, plus showcased the Components Division for the first time in North America.
Liebherr Displays 20 Models Plus Shows Components for the First Time at CONEXPO-CON/AGG
According to Stefan Hessler, a member of the board of directors for Liebherr-International AG, the Americas continue to gain in importance to the company's growth. In 2013, North and South America represented about 16% of the Liebherr Group's total sales volume.
Lift Equipment on the Rise
Looking specifically at North America, Gerhard Frainer, managing director, Liebherr-Werk Nenzing GmbH, notes the U.S. has been the most successful sales market in recent years for crawler cranes and foundation equipment such as drill rigs, piling rigs and combination rigs. And this continues to increase.
"In 2013, the USA and Canada accounted for approximately one-fourth of our total sales volume of construction machinery product lines in terms of quantity," he points out.
The success in crawler cranes in North America is evidenced by the company's growing market share. "In the class between 220 to 275 tons, we have a market share of 38%," Frainer states. "Even more significant is our 330-ton crawler crane LR 1300, with a market share of more than 51%."
To build on this success, Liebherr showcased the LR 1250 crawler crane, which is based on the previous LR 1200 model. Driven by a 362-hp Tier 4 Interim, six-cylinder diesel engine, the crane is fitted with two winches featuring 26,455 lbs. of line pull each. Travel of the "taxi crane" is achieved by retracting the tracks to a width of 19 ft.
The company also chose to showcase its tower crane solutions, which are also benefiting from the growth in the wind energy installations. "We have pioneered the erection of wind turbines using tower cranes," asserts Dominque Tasch, managing director, Liebherr-Werk Biberach GmbH.
He cited sale of 30 medium and large tower cranes through its U.S.-based dealer, Morrow in Salem, OR, and the recent use of its EC-H high-top cranes on major construction sites in Los Angeles, CA and Fort Worth, TX, and the 355 HC-L luffing jib crane in Montreal, Canada. "Our HC-L series of luffing jib cranes are seeing a real boost in demand," says Tasch. "In recent times, we have managed to sell almost 20 of them in the U.S. market alone."
On exhibit at CONEXPO-CON/AGG were the 380 EC-B 16 Litronic flat-top crane, as well as the 542 HC-L 18/36 Litronic luffing jib crane, which has already been licensed for use in New York. "The 542 HC-L can be fitted with a high-performance hoist gear, which develops 160 kW," says Tasch. "This hoist gear enables us to achieve hoist heights of up to 1,100 m and high handling capabilities."
On the foundation equipment side, Liebherr showcased its LB 44 rotary drilling rig to the North American audience. The 381,000-lb. rig is equipped with the new BAT rotary drive offering a torque of 510 kNm. In Kelly drilling applications, the unit is capable of drilling diameters up to 10 ft. and maximum drilling depths of 301 ft.
Liebherr LB 44-510 Rotary Drill Debuts on FAIR Particle Accelerator Project
Positioned for Continued U.S. Growth
The material-handling and concrete equipment segment of Liebherr has seen its fair share of growth, as well. "The market for the range of earthmoving construction machines that Liebherr offers in the USA was approximately 27,000 units in 2013, based on the 'First in the Dirt' (FID) figures issued through the Association of Equipment Manufacturers (AEM)," noted Peter Mayr, president, Liebherr Construction Equipment Co., which is based in Newport News, VA. This compares to 21,000 units sold in 2011.
"We expect to see continued improvement within our segment, with growth in the range of 2% to 5%," he adds. "In general, we are optimistic regarding the next several years."
In 2013, Liebherr saw a restructuring of its operations in the U.S., which included the hiring of five additional regional business managers. Mayr also announced an agreement with Republic Crane and Equipment Company, Charlotte, NC, under which Republic Crane will cease being the national distributor for Liebherr material-handling equipment used in scrap and will become a full-line Liebherr dealer for earthmoving and material-handling equipment.
Mayr also touched on new models in the earthmoving, material-handling and concrete product segments on display at CONEXPO. Earthmoving equipment included:
Excavators: A924, the first of the company's next generation wheeled excavators; R924 crawler excavator in a waste/recycling configuration with adjustable cab and sorting grapple; and next generation R956 excavator with a redesigned x-frame undercarriage.
Dozers/Crawler Loaders: PR765, dubbed the world's largest hydrostat dozer; new PR736 available starting in 2015 and featuring a Tier 4 Final diesel engine that requires no diesel particulate filter; and LR 634 crawler loader in a forestry configuration.
Wheel Loaders: L542 wheel loader in a scrap/recycling configuration; and L556 and new L580 wheel loaders featuring the Industrial linkage for greater torque in the upper lifting range.
On the concrete side of the business, the company displayed the THS 110 D-K concrete pump, which is designed for projects with frequent relocations on the site. Mounted on a crawler unit, the pump can be moved and operated via radio remote control. It is rated at an output of 133 cu. yds. per hour and provides a concrete pressure of 1,090 psi.
Components Expansion
The emphasis at CONEXPO on the Components Division is a further display of Liebherr's product portfolio. Based in Bulle, Switzerland, the division provides replacement components and remanufacturing services to Liebherr customers, as well as sells to external customers, making up about 18% of its annual turnover. Its product portfolio includes 16 product lines in 14 business areas, including diesel and gas engines, injection systems, axial piston pumps and motors, hydraulic cylinders, large-diameter bearings, etc.
International Tour: 3 Whirlwind Days of Jobsites, Tier 4 Final, Remanufacturing and More
While North America is currently supplied by a factory based in Monterrey, Nuevo Leon, Mexico, the sales organization in the U.S., Liebherr Components North America Co., is based in Saline, MI. The Michigan site is being steadily expanded to meet increasing market demand.
"We consider the biggest sales potential in North America to be our product lines for large-diameter bearings, gearboxes, diesel engines and common rail injection systems," says Gebhard Schwarz, managing director, Liebherr-Component Technologies AG. "While our range of injection systems is naturally directed at manufacturers of diesel engines, the target groups for the three product lines are generally all manufacturers of rough-terrain machines, as well as manufacturers of industrial equipment."
The growth in wind power in the U.S. has also resulted in substantial sales of large-diameter bearings and gearboxes to crane suppliers. "However, we wish to expand on this to include agriculture and forestry machines, decentralized energy systems (combined heat and power units and biogas systems) and above all construction machines," says Gebhard. "We intend to emphasize this with our first trade fair presence at CONEXPO-CON/AGG 2014."