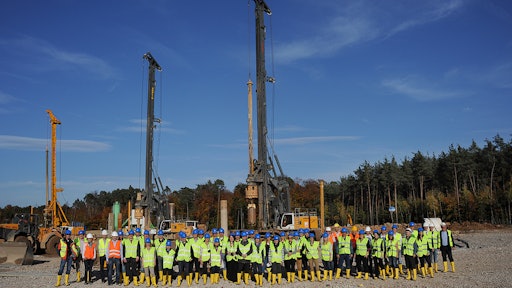 This past week, I had an opportunity to once again join construction journalists from across the globe in the Liebherr Information Tour, a whirlwind adventure consisting of corporate presentations, plant tours and visits to construction sites utilizing Liebherr equipment. This year's tour centered largely in the company's home country of Germany, while finishing up the last leg with a journey to a major project in central Paris.
Day 1: A Day at the FAIR
Day 1 of the trip saw little rest for editors arriving from destinations outside of Europe, as we headed straight from the Frankfurt airport to Darmstadt, the future home of the FAIR (Facility for Antiproton and Ion Research) international particle accelerator. Currently under construction, the center is an international collaboration between European research organizations, and will be used by some 3,000 scientists from roughly 50 countries once completed in 2018.
After listening to presentations on the center and the project, journalists donned hard hats, vests and bright yellow safety boots to head out to the work site. There, we had the chance to get a close-up view of Liebherr's LB 44-510 rotary drilling rigs in action installing foundation piles and performing kelly drilling – the first production application of the new machines introduced at bauma earlier this year. The LB 44-510 is the largest rotary drill in Liebherr's line, weighing in at 170 tonnes and delivering 376,000 lbs.-ft. of torque and 123,000 lbs. of pull force.
Liebherr LB 44-510 Rotary Drill Debuts on FAIR Particle Accelerator Project
After the site visit, our group hopped back on the bus to head to Ettlingen, a charming community situated at the northern edge of the Black Forest and intersected by the Alb River. There, we settled in at the Erbprinz Hotel for dinner and an overnight stay.
Day 2: Focus on Components
The second day of the tour began with several insightful presentations from members of the Liebherr Board of Directors. Stefan Heissler led off with an update on the status of the business activities of the Liebherr Group, including a brief overview of the recent $115 million Euro investment in a new logistics center in Germany for global parts distribution, as well as a review of first half 2013 financial results. He noted that the Group expects to end the year at approximately $8.986 billion Euros (down slightly from 2012) and remain flat in 2014.
Components Division. Gebhard Schwarz, managing director, Liebherr-Component Technologies AG, followed with an outline of the various segments and facilities that make the Components Division, which supplies diesel and gas engines, fuel injection systems (including common rail systems), engine control units, transmissions, hydraulic systems, and other components used in the manufacture of Liebherr machines. The division also supplies components to other machine manufacturers for use in heavy-duty off-road applications, as well as manufacturers of industrial equipment.
Schwarz emphasized the objective of the Components Division to continue to provide technological advances for Liebherr construction machines. "For years, we have been carrying out research and development projects in the areas of energy efficiency and hybridizing construction machines," he notes. Specifically, he cited a patented drive system for the R9xxx hybrid excavator concept showcased at bauma 2013. "In addition to hydraulic pressure accumulators, storage systems that have been developed in-house, and have supercaps, are used for the storage of electric energy."
The division is also working on development of new drive systems with power split (CVT) gearboxes that combine the advantages of a hydrostatic drive with mechanical drives. Prototypes are currently in the test stage, with production anticipated in 18 months to two years.
"We see great opportunities for these drives in all applications whose load collectives require the advantages of both systems, for example, wheel loaders," says Schwarz. To that end, Liebherr Group is building an additional production plant for electric drive systems in Biberach an der Riss, Germany.
Combustion Technology. The program continued with a presentation by Rudolf Ellensohn, managing director, Liebherr Machines Bulle SA, discussing the company's latest line of diesel engine technology. He discussed the company's long history of producing engines at its Bulle, Switzerland facility, with the current range covering three model series ranging from 161 to 1,026 hp (120 to 765 kW).
With the implementation of Tier 4 Interim/Stage IIIB emissions standards, Liebherr moved to employ diesel particulate filters (DPFs) and selective catalytic reduction (SCR) systems (with diesel exhaust fluid/AdBlue) in engines with outputs from 174 to 751 hp (130 to 560 kW). As the January 2014 implementation date for Tier 4 Final/Stage IV approached, the company worked to develop its own fuel injection system, including the engine management system, and to revise and restructure the engine modules. As a result, Liebherr will employ only SCR technology for Tier 4 Final aftertreatment.
"Ideal system integration and intelligent development solutions have enabled us to reduce untreated particulate emissions within the engine to a level below the specified limit," says Ellensohn. "We no longer need a diesel oxidation catalyst (DOC), particulate filter (DPF) or exhaust gas recycling. That means that Liebherr is currently the only diesel engine manufacturer who satisfies the requirements of Stage IV and Tier 4 Final without a diesel oxidation catalyst."
He adds, "With our 'SCR only' solution, no deterioration or destruction of the exhaust gas aftertreatment system is to be expected even if the machine is run on fuel with a higher sulphur content. This is particularly beneficial for equipment rental suppliers. Stage IV and Tier 4 Final equipment can also be used in countries where sulphur-free fuel is not always available."
Reman Program. Prior to our scheduled tour of the remanufacturing program facility, Kurt Schoellenberger, managing director of Liebherr-Ettlingen GmbH, provided an overview of the site and its operations.
Since 2004, the Ettlingen facility has served as Liebherr's remanufacturing competence center, consolidating European reman operations in one location. The center currently offers three different levels of remanufacturing to its customers: component exchanges; general overhaul; and "classic" repairs. Components serviced include diesel and gas engines; hydraulic pumps, motors and cylinders; travel, slewing and swiveling drives; and splitter boxes and rope winches.
Remanufacturing has become an increasingly important service offering. In the past seven years, Liebherr-Ettlingen GmbH has been able to quadruple its total turnover, and the middle of 2013 saw the delivery of the 10,000th reman component.
While it currently provides reman services for MAN and John Deere engines used in its machines, Liebherr aims to expand this service to all machine components installed in Liebherr equipment from third-party manufacturers. The company also plans to establish other continental reman operations based on the model of the European Reman Competence Centre. Sites are currently under development in Canada and Russia. Further investigations into future sites are underway in South America, South Africa and China.
At the conclusion of Schoellenberger's remarks, the group boarded the bus for a guided tour of the Reman Centre in the industrial area of Ettlingen. Later that evening, the group enjoyed dinner and entertainment at a historic casino in Baden-Baden, returning just a few short hours prior to our departure for Paris the following morning.
Day 3: Arrival at Les Halles
The final day of the tour began with a three-hour journey on the TGV, the high-speed train to Paris, where the monitor featured speeds up to just shy of 200 mph (318 km/h). Upon arrival, we piled back into a bus for transport to Quartier des Halles, which was named after the former Paris central market and its market halls. There, wedged between historic buildings and one of the busiest shopping centers in the city is the construction site for the Canopee Les Halles, a massive renewal project for Europe's biggest urban transport hub, a giant shopping center, entertainment facilities and a pedestrian precinct.
Our group was treated to an exclusive behind-the-scenes tour of the site, taking us along the perimeter and under the massive structure that will make up the namesake "canopee" or roof, which is designed to look like giant unfolded leaf. Materials for this complex artistic covering are being lifted and set into place by two Liebherr 380 EC-B 16 Litronic flat-top cranes and a 280 EC-H 12 Litronic top-slewing crane.
Liebherr Cranes Send Paris Transport Hub Back to Nature
After observing the cranes in action on the site from the nearby observation tower - which is open to the public and features educational material about the site - our group concluded the Information Tour. The majority headed back to the airport for afternoon or early evening departures, while a lucky few of us (me included) had a chance to explore the beautiful city of Paris prior to our flights home the next morning.
Companies in this article