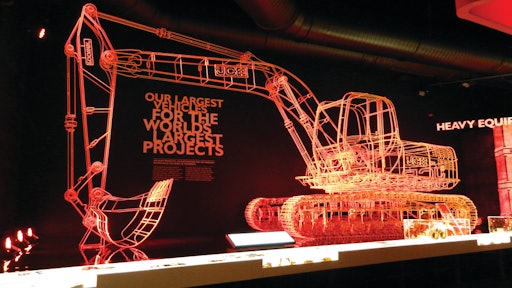 One of the highlights of a recent visit to JCB's UK-based heavy equipment and engine manufacturing facilities was a tour of the company's new permanent exhibition, "The Story of JCB". Housed at JCB World headquarters in Rocester, England, the exhibition charts the company's progress from its humble beginnings in the 1820s -- when the Bamford family worked as blacksmiths out of their garage in Uttoxeter -- through to the present day, multi-billion global corporation.
According to JCB Chairman Sir Anthony Bamford, the £5 million ($7.7 million USD) customer experience center "is the first time that the history of our company and my family's roots in manufacturing has been told in the form of a permanent exhibition." In addition to showcasing the company's 66-year history, the exhibition will be used as  a "powerful selling tool for our customers, especially in the emerging markets where a greater appreciation of our heritage and pedigree will help them understand our business and why we are the right choice for their future machine requirements."
The exhibition covers nearly 27,000 sq. ft. of floor space and includes 14 zones that take the visitor on a journey through time, starting in the 1820s through to the present day. In addition to earlier model equipment, it features 10 landmark JCB machines, which had to be craned through the roof, including one of JCB's first products, a hydraulic tipping trailer, and a restored 1962 JCB 3 backhoe-loader.
The centerpiece of the exhibition is a giant skeletal model of a JCB JS200 tracked excavator built to scale out of 8mm steel rod and created by renowned artist Benedict Radcliffe. The finished artwork took five months to complete, used around 1,094 yds. (1 km) of steel rod and weighs around 2 tonnes.
Other sections of the exhibition cover such areas as JCB's expansion into a global manufacturer; its growth as an agricultural machinery manufacturer; its military products; and the development of the JCB engine and the record-breaking Dieselmax car.
Initially, the exhibition will be open to JCB employees and their families, with limited opportunities to be made available in future for the general public to visit the attraction.
Companies in this article