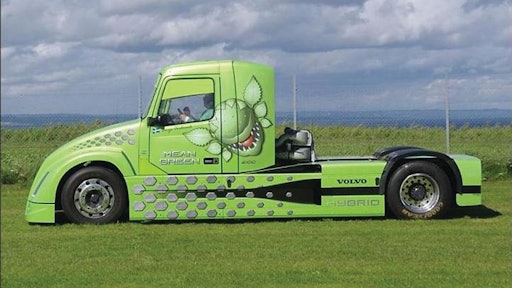 Volvo Trucks North America recently announced that Mean Green, the "world's fastest hybrid truck", will attempt to achieve a new speed record of more than 165 mph on April 27 at Wendover Airfield in Utah. The Volvo-built hybrid currently holds speed records in the standing 500-meter (one-third mile), standing kilometer (two-thirds mile) and flying kilometer – international speed standards.*
The cool factor of the truck aside, such an attempt is designed to underscore the capabilities that hybrid technology can offer. "Mean Green is a prime example of Volvo's technical capabilities and our continued focus on emerging technologies," states Ron Huibers, president, Volvo Trucks North American Sales & Marketing. "Our engineers developed the world's fastest hybrid truck utilizing the same Volvo hybrid drive system powering hundreds of Volvo buses throughout the world, including London's double-decker buses."
In building the Mean Green, the company's team of hybrid technology experts adapted Volvo's hybrid driveline to the chassis requirements of a vehicle built for speed. Engineers then outfitted Mean Green with a highly tuned Volvo D16 engine and a modified version of the automated I-Shift gearbox, which interacts with the hybrid's electric motor. In total, Mean Green generates 2,100 hp and nearly 5,000 lb.-ft. of torque; 200 hp and 885 lb.-ft. of torque come from the electric motor.
"The result is a lightning-speed boost from start-off without any of the customary diesel-engine delay," says Boije Ovebrink, Mean Green's owner and driver. "For the first couple of seconds, the truck just makes a slight whistle until the diesel engine, which runs on renewable liquid rosin diesel, starts delivering with explosive force."
Whether the attempt at a new speed record is successful or not, the company will have succeeded in promoting not only its own hybrid technology, but the potential of hybrid systems as a whole. With a significant number of suppliers introducing hybrid and alternative fuel vehicles and construction equipment, drawing attention to these systems in such a (literally) colorful way will help to educate future end users who may be otherwise skeptical about their capabilities and performance.
*Standing kilometer: The truck starts off from a standstill, spanning the 1,000-meter course in one direction and then the other. The average speed from the two runs is noted as the official figure. Flying kilometer: The truck is in motion prior to spanning the defined 1,000-meter course in each direction.
Companies in this article