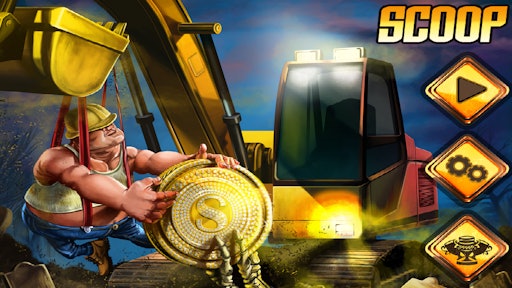 Most games designed for the iPhone, iPad or other mobile devices are strictly for fun, but Yawsum LLC has launched a new app with the potential to educate, as well. Scoop - Excavator introduces both young and adult mobile device users to what it takes to operate an excavator to complete various construction tasks.
According to Yasum's Andrew Chino, Scoop applies real-world physics to touch-sensitive joysticks that operate much as they do in a real excavator. Both SAE and ISO patterns are available. For more experienced operators, each control pattern has an advanced setting, combining the two motions of each joystick simultaneously.
The excavator's tracks are controlled by the mobile devices' accelerometers – tilt the device forward, and the tracks of the excavator move forward. Since track motion is controlled by the accelerometers, and all other functions are controlled by the two joysticks, players are able to interact with all excavator controls simultaneously, a feature Chino claims no other game in the construction genre employs.
Clearly, Scoop isn't about to result in a cadre of highly trained equipment operators. But it does have the potential to introduce a broader audience to heavy equipment operation and what it entails. Given the pending shortage of skilled operators, any tool that develops interest in how construction equipment works, particularly at a young age, is a positive step in the right direction.
Click here to see the complete description or to download Scoop - Excavator via the itunes store.