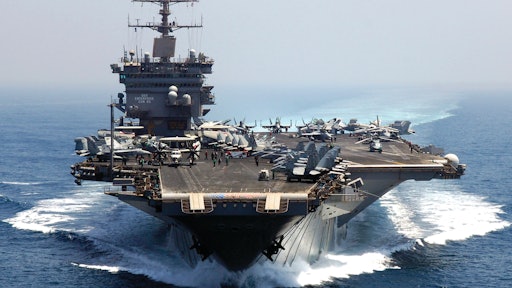 I came across a news item in the Sunday edition of the Wisconsin State Journal ("The Final Frontier", Associated Press, 3/11/12) discussing perhaps the most notable piece of equipment in our country's naval fleet, the USS Enterprise. The world's first nuclear-powered aircraft carrier, the "Big E" is actually the eighth U.S. ship to bear the name. Yet, it is without a doubt the most memorable for its history and longevity – not to mention its being immortalized in both television and film.
Commissioned in late 1961, the massive vessel set out on its maiden voyage the following January, requiring 200,000+ hp to propel its 1,123-ft.-long mass at a top speed of 30+ knots. Designed to last 25 years, the historic warship is now embarking on its final journey after 50 years of service. Following a seven-month deployment to the Middle East, it will return for deactivation at the end of 2012, and the dismantling process will begin shortly after.
As an admirer of the marvels of modern equipment and the materials and engineering that go into it, it's a bit disheartening to picture this unique vessel ending up as scrap. I imagine some of you have felt the same way as you "deactivated" a particular piece of equipment, perhaps the first machine you owned or one passed down from one generation to the next. Yet, machines are replaceable, and the time comes when you need to move on to something newer, more efficient and less costly to operate.
The Enterprise has a storied history, the stuff of legends. But her time has come. She's become increasingly difficult to maintain and, as the article indicates, sailors reporting for duty on the vessel are often offered "condolences" as they prepare to board. It will be difficult for many to see her go, yet they can hopefully look forward to the opportunity to christen a new and improved version of the Enterprise in the years ahead.