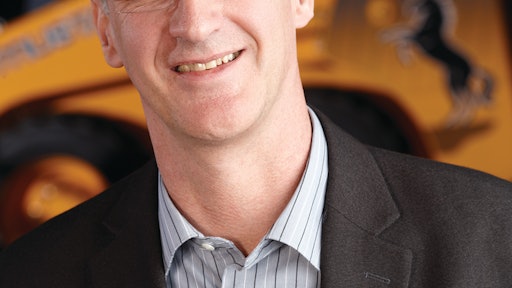 While attending The Festival, an event hosted by Manitou Group to exchange ideas and information with its customers and industry partners, I had the chance to visit with Dan Miller, president and CEO of Manitou's Compact Equipment division, which includes the Gehl, Mustang and CEAttachments brands.
Throughout our conversation, it was clear Miller was very optimistic about prospects for Manitou and its Gehl and Mustang brands in the North American market. Coming off of a strong 2011, the company has seen additional growth in first quarter 2012 due largely to strength in the agricultural sector, a modest come-back in housing and growth in rental activity.
Rental, in particular, presents significant long-term potential. "We're seeing more rental activity going on," says Miller. An uncertain economy and soft construction market has made customers "a little cautious" about investing in new equipment.
As a result, rental has opened new doors for the company. "We've had some [existing dealers] approach us to do rental that hadn't in the past," Miller points out. "We have also had some new dealer opportunities, as well."
Revamped Equipment Line-up
From an equipment standpoint, the Gehl and Mustang product lines continue to evolve to take advantage of future market potential. For example, Manitou made the decision to discontinue its relationship with Takeuchi for production of compact track loaders.
"Takeuchi had a great product, but we chose to produce our own machines," Miller states. "We are taking our destiny into our own hands."
Consequently, in 2011, the company introduced its Gehl and Mustang RT Series compact track loaders with such unique features as the HydraTrac Automatic Track Tensioning System. This system enables end users to easily adjust track tension in the field.
More recently, the company ended its distribution relationship with Wacker Neuson, inking a new strategic alliance with Yanmar to allow Manitou to launch a new line of compact excavators. In turn, Yanmar will be launching a range of skid steers and compact track loaders. This "two-way agreement," in which the companies are sourcing products from each other, will promote a healthy, long-term partnership, Miller asserts.
Yanmar will also serve as a strategic supplier for Manitou's compact equipment. "We wanted to align ourselves with an engine supplier, since we don't make our own engines," says Miller. He adds that the two companies are also exploring areas where they can work together on product design.
Branding Strategy
Clearly, since Manitou is the parent company, the overall branding strategy is to incorporate the Manitou name wherever it makes sense. For example, within the past month or so, the company made the decision to discontinue marketing Mustang telescopic handlers in favor of its Manitou brand.
"Having both yellow telehandlers (Gehl and Mustang) didn't serve any purpose for the market," Miller explains.
However, he stresses that the Mustang and Gehl brands are not going away. "The Gehl [brand] has been predominantly on the agricultural side more so than the construction side. And Mustang played a heavier side on the construction side," Miller indicates. "We are working on some things to try to make sure we drive that differentiation and all of those brands stay alive and well."
Companies in this article