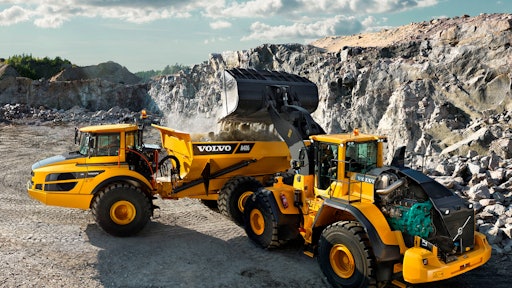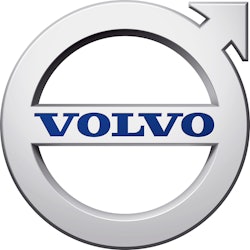 Volvo will exhibit more than 17 innovative machines at ConExpo 2014, including the all new generation of E-Series excavators, G-Series articulated haulers and H-Series wheel loaders. That's not all, in what constitutes a virtual renewal of its core product range, Volvo CE is putting particular emphasis on its reliable road building products and industry expertise, and will also launch to an international audience updated models of backhoe loaders, motor graders, skid steer loaders and compact track loaders.
At the 31,520 ft2 indoor area (Booth 10951 of the North Hall), the machines will be arranged in a series of feature areas – General Purpose Production Equipment, Utility, Road Construction and Customer Solutions – according to customer use and application. These areas demonstrate how Volvo products are designed to work together and will focus on factors such as reliability, profitability, productivity, safety, environmental care, quality of the finished work and total cost of ownership.
Machine advantages
At the core of the exhibition area, visitors will be able to experience the new generation L250H, the industry's first two-pass wheel loader, which is versatile and offers a wide range of buckets and attachments. See the new L250H in action with 3D mapping technology and learn how the updated wheel loader works in various applications, including quarry, aggregate and rehandling jobs.
The L250H and all Volvo machines covered by the new emissions requirements now feature new engine technology that is compliant with the Tier 4 Final/ Stage IV legislation. Comprehensively tested in punishing conditions, the new engines have been validated in bench and multi-application field-testing to reduce nitrogen oxide (NOx) levels from Tier 4 Interim/Stage IIIB levels of 2.0g/kWh to just 0.4g/kWh — an 80% decrease. In addition, Volvo has applied selective catalytic reduction (SCR) – a proven technology that Volvo Trucks has used since 2005 – to help meet the new requirement. The Volvo solution incorporates an after treatment catalyzer that reduces NOx levels by injecting a urea and water-based reduction agent. When the reduction agent, known as Diesel Exhaust Fluid in the US and AdBlue in Europe, is heated by the exhaust it produces ammonia. This causes a chemical reaction in the catalyzer that converts NOx to nitrogen and CO2 – both of which are found naturally in the air.
Commitment to North America
At the front of the booth, visitors will see the first wheel loader assembled in the company's Shippensburg, Pa. factory. A striking livery of the US and Canadian flags has been painted onto the L60G 'flag loader' to celebrate wheel loader production starting at the company's state-of-the-art US facility. The specialty wheel loader is a testament to the company's long term and growing commitment to the North American market.
Innovating the future
A concept model that showcases the future of construction equipment in 2030 will also be unveiled at ConExpo. Visitors will see a 1:1 scale model of an all-electric compact excavator – codenamed GaiaX – with influences springing from another of Sweden's specialities — furniture design.
Volvo enlisted the aesthetic talents of acclaimed Swedish furniture designer Monica Förster to design the operator's seat, which is formed from three-dimensional molded wood—a first in the construction equipment industry.
Full solution provider
In the General Purpose Production Equipment area, visitors will be able to see the new EC380E crawler excavator, L350F wheel loader, A40G FS articulated hauler and MC70C skid steer loader. In the Utility Zone, visitors will be able to see the new PL4809D pipelayer, EC250D crawler excavator, BL70B backhoe loader, ECR88D compact short swing radius excavator and MCT135C compact track loader. In the Road Construction area, visitors will be able to see the DD120B asphalt compactor, SD115 soil compactor, P7170 paver, G946C motor grader and MT2000 half-lane milling machine.
Visitors to the booth can also learn about CareTrack®, Volvo's telematics system, and see a refurbished L220E wheel loader. Experts will be on hand to discuss Certified New Life, a program that renovates machines to almost good-as-when-new condition – usefully extending their working life.
Demonstrating its heritage and depth of understanding of the highway sector, Volvo experts from its Road Institute® will be on hand to explain ways highway contractors can improve productivity, maximize machine uptime, reduce risk and take greater control of costs. The 100-plus Volvo exhibition team will also be happy to explain customer support agreements, analysis services, attachments, quick couplers and remanufactured components.
At the 6,000 ft2 outdoor area (Booth 1300 of the Gold Lot) visitors will be able to try their hand at operating a BL60B backhoe loader and an EC55C compact excavator – with prizes offered for tasks safely and successfully completed in the shortest time. The outdoor booth will also display a wide range of attachments and illustrate the advantages of Volvo CE's remarketing scheme.
Showcasing the strength and complementary nature of the Volvo Group's product offering with the construction industry, Volvo CE sister companies Volvo Truck, Volvo Penta and Mack will also have a presence at the exhibition. Built for the toughest jobs, the Volvo VHD 200 Axle Forward tipper truck features an integrated Volvo powertrain comprised of a Volvo D13 500 horsepower, 1,850 lb.-ft. engine and Volvo I-Shift automated manual transmission. The VHD's Volvo T-Ride suspension provides a full 17 inches of articulation for easy navigation on a job site.The five-axle Mack® Granite® model, meanwhile, is equipped with a 24-foot dump body. Its Mack MP8-455M engine delivers 455 hp and 1,650 lb-ft. torque and is tailored specifically for the rigorous demands of vocational applications.
Gold rush
Fans of the hit show Gold Rush will also get the chance to meet cast members during ConExpo 2014. Todd Hoffman, his father Jack, and other key members of the show will be signing autographs and taking photos at Booth 10951, North Hall. Not so lucky at the casino? Try your hand at panning for gold at Booth 1300, Gold Lot. Cast member Fred Hurt, a veteran gold miner who led a five-man team to extract more than 600 ounces of gold from Alaska, along with his team members will be demonstrating how to find the precious metal.
At ConExpo, Volvo will also launch daily fuel card giveaways worth $500 with a grand prize of $15,000 awarded at the end of ConExpo.