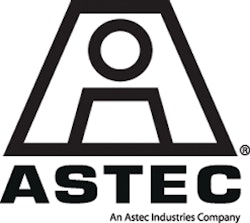 The 2015 sessions for the Astec Advanced Customer Schools have sold out. Demand for the schools was so great that a fifth four-day session has been added and a waiting list has been created for any spots that open should a scheduled attendee be unable to take part. All total, Astec will host five sessions of schools and over 400 asphalt industry professionals will attend. 
Troy Norris, Astec Customer School coordinator, reports that the first four weeks sold out within two days after registration opened on October 1.
Astec Customer Schools teach hands-on maintenance and advanced troubleshooting techniques to fix problems fast. Instructors include Astec and Heatec Engineers and Service Technicians with decades of field experience.
During the four full days of instruction, students will have the opportunity to meet with instructors and fellow students to exchange information. Additional networking opportunities are provided during breakfast and lunch each day, and special dinner receptions each night.