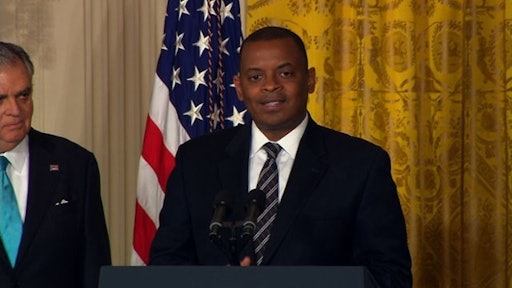 U.S. Transportation Secretary Anthony Foxx has announced President Obama's $94.7 billion Fiscal Year 2016 Budget for the U.S. Department of Transportation.  The proposal makes critical investments in infrastructure needed to promote long-term economic growth, enhance safety and efficiency, and support jobs for the 21st century. Speaking at a town hall at Google headquarters in Mountain View, CA, Secretary Foxx highlighted the President's budget proposal, which notably includes funding to advance research and autonomous vehicles, while announcing his report "Beyond Traffic," a look at future trends and choices that will impact America's transportation system over the next three decades.
The President's transportation proposal calls for spending $317 billion on U.S. roads and bridges over the next six years, including $94.7 billion during the 2016 fiscal year. The plan also includes $143 billion on federal transit projects and $18 billion on freight improvements over six-year period.
"Our budget proposal lays the foundation for a future where our transportation infrastructure meets the demands of a growing population and an economy that depends on the free flow of freight," says Secretary Foxx. "This Administration is looking toward the horizon – the future – but to do this we need Congress' partnership to pass a long-term reauthorization to put Americans to work rebuilding America." 
The last year has demonstrated the pitfalls of repeated short term funding extensions and is why the President's FY 2016 budget creates additional certainty with a six-year $478 billion surface transportation reauthorization proposal that would improve America's highways, ports, and transit networks. The proposed budget would be paid for in part with $238 billion from transition revenues generated from pro-growth business tax reform. 
According to an article in The Hill, the White House said Monday that Obama's transportation proposal could be paid for with money generated by a one-time tax holiday for companies who have investments overseas.
The proposal, known as "repatriation," would allow companies to bring back earnings to the United States at a 14% tax rate, generating an estimated $238 billion in revenue for the government that could be used to pay for infrastructure improvements, officials said.
The White House said Obama's plan would keep the Department of Transportation's Highway Trust Fund, which is currently scheduled to run out of money in May, solvent for the next six years without asking drivers to pay more at the pump.
"The President's budget recognizes the obvious," says American Road & Transportation Builders Association (ARTBA) President & CEO Pete Ruane. "Status quo federal investment levels in America's highways, bridges, and transit systems just won't cut it anymore and isn't a formula for strong economic growth.
                
"Passage of a robust, six-year transportation investment proposal as envisioned by the President would send the right signal to states planning new projects and to private sector companies contemplating whether to hire workers and make capital investment decisions," he continues. "However, we shouldn't put the horse before the cart.  The most immediate challenge facing Congress and the President is reaching agreement on a sustainable revenue source to fix the beleaguered Highway Trust Fund before the next extension expires at the end of May. We urge them to check political expediency at the door and work together to quickly find a permanent funding solution for the nation's transportation networks." 
Closing the infrastructure deficit 
In the last six years, Congress has passed 32 short-term measures that have failed to adequately address the needs of the aging infrastructure. To keep roads and bridges in good condition, all levels of government - federal, state, and local - will need to spend at a minimum $124 billion annually; current spending is at $100 billion.  For transit projects alone, there is an $86 billion backlog in maintenance needs that grows each year. 
In order to tackle the infrastructure deficit and support job creation, the six-year budget includes $317 billion to rebuild America's roads and bridges, an increase of almost 29% over current investment in our highway system. To help meet growing demand, the budget provides more than $143 billion to create and improve transit and passenger rail service. 
The budget provides $18 billion for multi-modal freight programs to strengthen America's global competitiveness and support the President's "Made In America" trade agenda.  In 2013, exports of goods and services reached an all-time high of $2.3 trillion, supporting 11.3 million good paying American jobs across the country. Building on the success of the 2010 National Export Initiative (NEI), the Administration has launched NEI/NEXT to help more American businesses export to more overseas markets. 
To encourage private sector investment, the budget includes $1 billion annually for credit assistance for nationally or regionally significant transportation projects through the Transportation Infrastructure Finance and Innovation Act (TIFIA) Program. The budget would also create a new Office of the Assistant Secretary for Innovative Finance to manage the Department's credit programs and help projects develop plans to utilize innovative financing. 
The American Association of State Highway and Transportation Officials (AASHTO) commends President Obama's proposed FY2016 federal budget, which includes $478 billion for transportation infrastructure investment over the next six years.
"We applaud the President and his administration for their leadership that has set the stage for a serious discussion about the next surface transportation bill," says Bud Wright, AASHTO executive director. "We know the hardest conversations will involve how to fund infrastructure investments. We look forward to working with the President and Congress on developing a new transportation bill supported by a long-term, sustainable source of funding."
The Federal Highway Trust Fund and the current surface transportation authorization are scheduled to expire May 31.
Click here for the highlights from the budget.