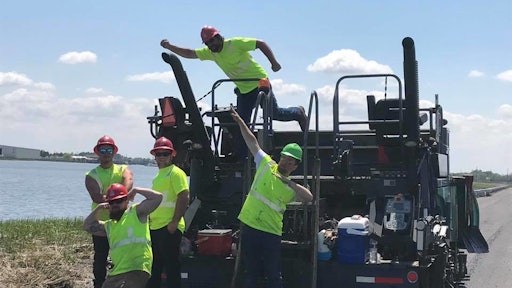 The labor market is tough right now. If you're like 78% of the construction companies out there that can't find enough workers to fill their open jobs, then you know the value of a good employee and you don't want to lose them. Turnover in the construction industry doesn't just mean losing a body to do a job, it means losing a skilled worker. If you're working with perishable materials like asphalt and your roller operator doesn't show up, you're in big trouble. Turnover can also be more far reaching, resulting in project delays, cost overages and scheduling nightmares. So what can you do to help keep employee turnover from costing your business? Here are a few tips:
1. Identify Top Talent, Foster Their Happiness
Employees leave organizations for many reasons; oftentimes these reasons are unknown to their employers. According to Right Management, a talent and career management consulting firm, it costs nearly three times an employee's salary to replace someone, which includes recruitment, severance, lost productivity and lost opportunities. So the single best way to reduce turnover is to hire the right people to begin with and keep them there. Look at your current employees and focus on your superstars–your most reliable and consistent people - and work hard to make them happy. 
Make sure current employees feel adequately trained and mentored. Right Management says that employees are more likely to stay engaged in their jobs and committed to an organization that makes investments in them and their career development. Sure training costs money, but if you think of retention as re-recruiting your workforce, it's well worth the money.
Take Action Today: Have a conversation with each of your employees individually or schedule an open-ended strategic meeting and ask each of your team members what their thoughts are on their role within the company. Listen and take note of what they say and what they want. Start working on implementing changes immediately, before they move on to a more fulfilling opportunity. 
2. Keep a Positive Culture
Employees will go the extra mile if they feel responsible for the results of their work, have a sense of worth in their jobs, believe their jobs make good use of their skills and receive recognition for their contributions. A positive culture means employees feel this way every day and your company should establish a series of values as the basis for culture such as honesty, excellence, attitude, respect and teamwork. A company that creates the right culture will have an advantage when it comes to attracting and keeping good employees
When it comes to employee recognition, BLR, Business and Legal Resources, says employees should be rewarded at a high level to motivate even higher performance. The use of cash payouts could be used for on-the-spot recognition. These rewards have terrific motivational power, especially when given as soon as possible after the achievement. It's important for employers to say "thank you" to employees for their efforts and find different ways to recognize them.
Take Action Today: Identify at least one employee who is going above and beyond and recognize them for their hard work and dedication or buy lunch for your entire crew on an especially long work day. This can go a long way towards making employees feel valued.
3. Stay On Top of Industry Trends
Employees, especially those in the younger generation, want to feel like they work for a company that is working hard to be an industry leader. This means investing in equipment and technology that can help them do their jobs more comfortably and efficiently. We know purchasing new equipment is not an easy solution to an immediate problem, but even small things like air conditioned cabs or using tablets for material tracking can make a big difference to workers who are eager to try the latest and greatest of everything. 
Today, the construction industry only employs 6% of the millennial workforce in the United States. The industry's failure to engage young, hardworking and diverse talent on a broad scale has been a big part of the problems it faces today with finding top talent. By being an industry leader, you can keep young employees happy which can help attract a new generation of workers to your company. 
Take Action Today: Try renting a few pieces of these new upgraded machines and see how younger workers respond. If their productivity is improved and they leave work at the end of the day excited to tell their friends about the work they did that day, then it's a win.
4. Offer Competitive Pay & Benefits
According to strategic planning consultant Leigh Branham, SPHR, 88% of employees leave their jobs for reasons other than pay but your employees still want to feel like the effort they put into work is worth their time. Offering a competitive wage can help your people feel like their work and time is valued. Bonus programs, pension, health plans and paid time off can send a powerful message to employees about their importance at the organization.
If you're happy with the employees you have now, it may beneficial to implement employee referral bonuses. Not only will employees appreciate the monetary incentive, you will also increase your chances of employee retention as referred new hires are likely to share the same characteristics, background, experience, etc. as your superstars. If you can pinpoint some positive personality traits and characteristics, it will help you better identify top performers during the hiring process and increase their chances of success within your organization. 
Take Action Today: Review current wages and determine if you need to make any adjustments to be competitive. Don't be afraid to ask a few trusted employees their thoughts on the current compensation structure. 
Conclusion:
Construction company owners can greatly increase their chances of keeping good employees by having a few conversations with their crew to identify future goals and address any issues they may be facing. You never know when a simple sit-down talk could turn the attitude of an employee around.