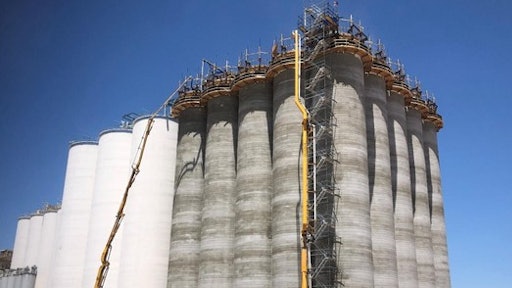 McCormick Construction Company
Ah, February. While 2020 is for sure behind us now, we're also not exactly back to a normal year, are we? The country is still dealing with COVID, unemployment is still high, and a new person is sitting behind a desk. Despite a pandemic, the more popular articles published from this last month all celebrate the work of the concrete industry.
Here are the most popular new stories from February 2021
Did We Mention They Had to Work in over 100
º

F Heat?

Contractors down in Arizona were tasked with the construction of 24 slipform grain silos at 140-ft. in height and 21-ft. diameter. It required a nine-day pour. Continuous, 24-hours a day. 

Admixtures Used in 9 Day Continuous Ready Mix Concrete Pour for Arizona Grain Slipform Silos
Creativity in Precast
They say the planet is about 71% water. The rest is ground. How much of that is concrete? The importance of concrete to our infrastructure is undeniable, but that doesn't mean designers can't get creative projects. The Precast/Prestressed Concrete Institute celebrates this with their PCI Design Award competition.
Take a look at the award winners through our review. 
2021 PCI Design Award Winners - Creative Precast Concrete Projects
Ever Hear of the Climate Pledge Arena?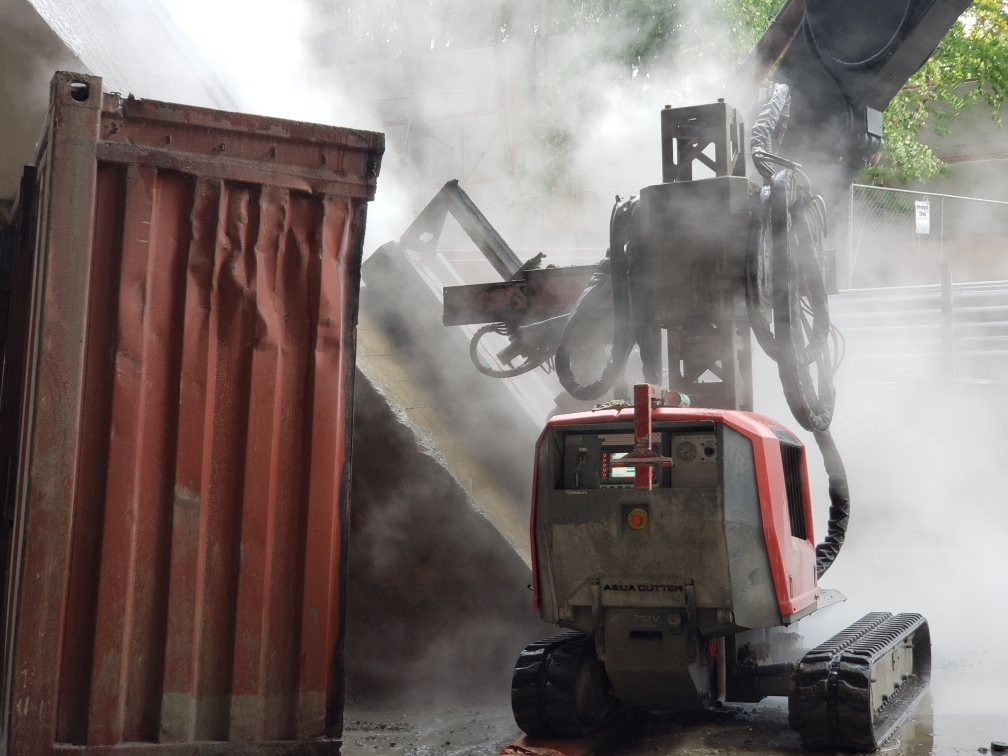 Contractors repurposed an old shipping container for shields to contain blast water and increase safety on the bustling jobsite.AquajetNo? It's the arena where the young hockey team, the Seattle Kraken (an awesome name, by the way - you can tell them I said so) call "home" - they also plan to host concerts and the traditional things an area would do once COVID allows. 
Taking advantage of the country's aversion to large crowd settings, the place is in the middle of a "monumental renovation." Part of that is demolition. The contractors used hydrodemolition robots to save a significant amount of time in the removal of the columns. 
Hydrodemolition Provides Precise Concrete Removal on the Climate Pledge Arena Renovation
A Custom Foundation
The winner of Concrete Foundation Assocation's 2020 Commerical Project of the Year award was Custom Concrete, a family-owned and operated company going on 50 years young. The award recognizes the work done for a unique foundation that required the placement to meet exact specifications. 
The trick? Everything had to be done indoors, surrounded by a working manufacturing plant. 
Placing A Custom Concrete Foundation - Custom Concrete - The CFA 2020 Commercial Project of the Year Award
A Reduced Carbon Cement Product
Lehigh Hanson announced its new EcoCem PLUS blended Portland Limestone Cement product has begun production in its Edmonton, Alberta, Canada plant.
As quoted in the release, "The motivation behind the EcoCem brand of products is to reduce the embodied carbon of cement and concrete," says Shawn McMillan, vice president, cement, Lehigh Hanson's Canada Region. "The introduction of EcoCem PLUS to the Prairie market builds on our commitment to providing environmentally responsible types of cement that deliver excellent performance while dramatically reducing CO2 emissions."
Lehigh Cement Among Latest to Launch Reduced Carbon Footprint Concrete
As always, thank you and stay safe.